Donald Trump Has Started Texting for the First Time & It's Reportedly Raising a Concerning Alarm for His Associates
Donald Trump is running for president for the third time, but he's doing something different when it comes to communicating with his Republican colleagues and friends — he is texting. While that sounds like no big deal to most of us who have been using our smartphones for over a decade, it is stressing out some of his advisers who know how easy it is for him to get into hot water. 
In addition to texting, he's also using an email address, which means he's finally leaving an electronic trail — that might interest a few investigators in the numerous legal cases Donald Trump is involved with. Several sources told The New York Times they were surprised to be on the receiving end of "new year greetings or political observations" because he's been so careful about his communication system in the past. 
There's no reason given so far as to why Donald Trump has changed his strategy, but it's a major shift from his former methods of making sure nothing was documented in his meetings — no paper trail, no electronic notes. It's something that "frustrated" the Jan. 6 House select committee while trying to investigate the events of that horrific day. There were plenty of texts between Donald Trump's senior advisers, but there was nothing from the former president himself. 
With the 45th president likely marking a return to all social media platforms soon, political watchers better get ready for a blitz of headlines. Donald Trump will officially be stepping into the electronic age from all angles. Will this embrace of technology be his downfall though? Only time will tell.
Before you go, click here to see every time Ivanka Trump has tried to distance herself from the Trump family: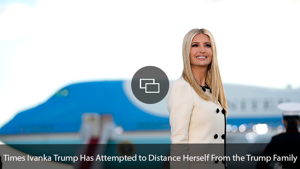 For more stories like this, follow us on MSN by clicking the button at the top of this page.