Michael Cohen lied about dealing with Russia, but Trump didn't

Washington Examiner
12/7/2018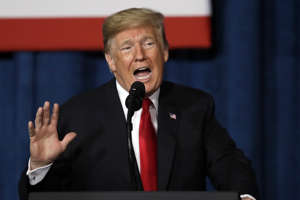 Editor's note: The opinions in this article are the author's, as published by our content partner, and do not necessarily represent the views of MSN or Microsoft.
Opponents of President Trump who read the late Friday court filing by the special counsel's office on Michael Cohen must have once again felt the familiar deep pangs of disappointment that come with every turn in the Russia investigation. 
There is, once again, no sign of any vast conspiracy that Trump or his campaign coordinated with Russia during the 2016 campaign.
The document looks bad for Cohen, who until recently was a longtime associate of Trump and the Trump Organization. It said that Cohen lied over and over again about the extent of his attempts during 2016 to negotiate a deal with Moscow that would bring a Trump property to Russia and that only when confronted by the FBI did he admit he was lying.
"By publicly presenting this false narrative, the defendant deliberately shifted the timeline of what had occurred in the hopes of limiting the investigations into possible Russian interference in the 2016 U.S. presidential election—an issue of heightened national interest," the report says.
It says that Cohen admitted to lying to Congress about when he stopped pursuing a deal with Russia, and that he had been in regular contact with "Individual 1" (understood to be then-candidate Trump) about the talks.
There's a simmering media narrative that this would prove Trump has also lied about his dealings, given his repeated claim throughout the campaign and into his presidency that he has "no deals" with Russia.
But even the liberal Slate in late November said:
"In the strictest sense, none of these denials appears to represent a lie as far as we know, because of Trump's adherence to present-tense verbs: I have no dealings with Russia … I don't do deals … I have no loans with Russia. But these statements serve to mislead people about Trump's attempted deal with Russia and Cohen's and Sater's past contacts with the Russian government."
The one instance in which Trump may have misled the public about his relationship with Russia was after his election, but before his inauguration, when he said during a press conference, "I have no deals that could happen in Russia, because we've stayed away."
Trump has apparently not "stayed away," though he regularly says that or some variation thereof when one of his businesses or deals collapses in order to save face.
Maybe there's more to learn in the special counsel's investigation and maybe there's not. But if Trump's "ties" to Russia amount to a business deal that fell flat, and which he was not forthcoming about, liberals and Trump's opponents should brace themselves for another round of those pangs of disappointment.