Drenching storms to pave way for cooler air to invade northeastern US this week

AccuWeather
7/15/2018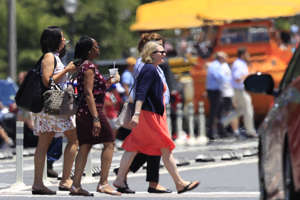 © Manuel Balce Ceneta/AP Photo Pedestrians cross Pennsylvania Avenue NW in an almost three-digit heat in Washington, Sunday, July 1, 2018. (AP Photo/Manuel Balce Ceneta)
In the wake of showers and thunderstorms that will enhance the risk of flash flooding, cooler air will invade the northeastern United States by midweek.
The air will remain hot and humid ahead of the advancing cool push, with Monday expected to be the steamiest day along the Northeast's Interstate-95 corridor.
Washington, D.C., Baltimore, Philadelphia and Harrisburg, Pennsylvania, are all forecast to soar into the 90s F.
AccuWeather RealFeel&reg Temperatures will surge past 100 degrees Fahrenheit in these cities.
While spotty showers and storms are possible ahead of the main cool push, the bulk of the stormy weather is likely to occur just ahead of the arrival of cooler, less humid air.
On Monday and Monday night, storms are forecast to soak the central Great Lakes and Ohio Valley, including Detroit, Cleveland and Pittsburgh.
The zone of drenching storms will slowly move eastward on Tuesday, threatening to disrupt travel and outdoor plans from Maine to Maryland and Virginia.
The greatest potential for storms along the I-95 corridor from Washington, D.C., to Boston will be from late Tuesday afternoon to Tuesday night.
With plenty of moisture available in the atmosphere, any of these storms will have the potential to result in heavy downpours which could lead to flash flooding, according to AccuWeather Meteorologist Kyle Elliott.
In this type of pattern, rainfall amounts could exceed 2 inches per hour, which is enough to overwhelm storm drains and small streams and flood neighboring roads, homes and businesses.
Residents in flood-prone areas should stay aware of the weather situation prior to midweek.
While flash flooding will be the primary threat, AccuWeather meteorologists are closely monitoring the potential for severe weather in part of the Northeast on Tuesday. Should this threat materialize, damaging winds will be an additional danger with the storms.
People planning to travel by road or air should anticipate an uptick in delays prior to midweek and outdoor activities may have to be put on hold.
Any non-flooding rainfall will benefit the abnormally dry to moderate drought conditions occurring in much of New York state and New England.
Comfortable conditions will return for Wednesday and Thursday, according to Elliott.
Temperatures will lower into the 70s across interior areas and 80s along the coast, accompanied by lower humidity and plenty of sunshine.
The respite from the heat and return of dry weather will give people an opportunity to turn off fans and air conditioners, head to the beach, pool or lake and exercise outdoors more comfortably.
"However, we'll have to monitor the potential for another storm system to bring wet weather chances back to the mid-Atlantic and Northeast by next weekend," Elliott said.
AccuWeather Lead Long-Range Meteorologist Paul Pastelok expects waves of moisture to surge northward along the East Coast on a regular basis into the end of July, bringing additional risks of flooding.