Everything we know so far about Allen Hurns' gruesome leg injury

SB Nation
1/6/2019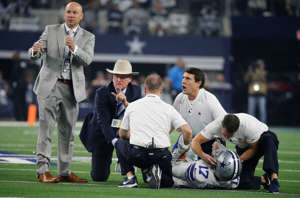 © AP Photo Dallas Cowboys wide receiver Allen Hurns (17) is helped after an injury against the Seattle Seahawks during the first half of the NFC wild-card NFL football game in Arlington, Texas, Saturday, Jan. 5, 2019. (AP Photo/Michael Ainsworth) In the first quarter of the Wild Card Round game between the Dallas Cowboys and the Seattle Seahawks, Cowboys receiver Allen Hurns suffered a gruesome injury to his left ankle. Hurns was carted off with what was later revealed to be a dislocated ankle and a fractured knee. You can see the video here, if you're so inclined (warning: the video is very graphic).
Players from both teams surrounded Hurns while he was receiving medical attention on the ground:
Head coach Jason Garrett came on the field and held Hurns' hand as he was being put onto the back of the cart.
Hurns was taken to a local hospital and then underwent surgery:
Cowboys WR Allen Hurns should be in surgery about now, per Jerry Jones. Dislocated ankle and fractured knee in gruesome hit vs. Seahawks. Thoughts and prayers

— Jori Epstein (@JoriEpstein) January 6, 2019
Hurns won't be able to play as the Cowboys move on to the Divisional Round, but he should be good to go before next season:
Cowboys' WR Allen Hurns already has undergone surgery on his dislocated ankle injury that ended his season, per source. As difficult as the injury was to see, Hurns is expected to be ready to return to football by August if there no complications or anything out of the ordinary.

— Adam Schefter (@AdamSchefter) January 6, 2019
Hurns finished his first season in Dallas with 20 catches for 295 yards and two touchdowns. Before joining the Cowboys, he spent four seasons with the Jacksonville Jaguars.