Raptors drew staggering TV ratings in Canada for Game 6 of NBA Finals

Larry Brown Sports
6/15/2019
The Toronto Raptors set record after record with TV ratings during their playoff run, which culminated in some truly staggering numbers as they closed out the NBA Finals in Game 6 on Thursday night.
The game averaged 7.7 million viewers across all channels in Canada, making it the most-watched TV program in the country in three years and the most-watched NBA game ever in Canada. About 15.9 million Canadians were estimated to have tuned into some part of the game, which represents 44% of the country's population and is a record.
The ratings in Toronto and Hamilton were especially impressive. Eighty-two percent of people watching TV in Toronto and Hamilton tuned into the Raptors, which is the highest non-Olympics audience in the market.
The Raptors just experienced their best season in franchise history. Their 58 regular-season wins were their second-highest total. Unlike past years when they had to contend with LeBron James in the Eastern Conference, James' exodus to the Lakers in the Western Conference gave the Raptors a new hope. They took advantage of the opportunity by acquiring Kawhi Leonard and later Marc Gasol in a trade, really making a run for the title. It paid off, and now the popularity of the Raptors in Toronto and the country is at an all-time high.
Related slideshow: 2019 NBA Finals (Provided by imagn)
More from Larry Brown Sports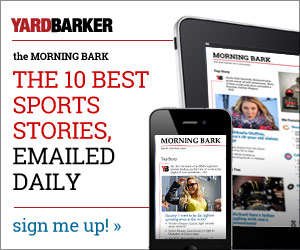 Larry Brown Sports