15 of the worst traffic jams in history

Photos
4/14/2019
Getting stuck in traffic jams can ruin your day! Most of us have been stuck in some bad ones over the years but were they as bad as these? Check out some of the worst ones of all time.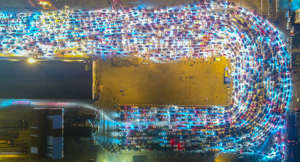 © VCG/VCG via Getty Images Hainan, China
Over 10,000 cars were stuck in a massive traffic jam in February 2018 while waiting to board ferries from the tropical island at the end of China's seven-day holiday to celebrate Lunar New Year. The huge queue reportedly stretched for around 6.2 miles (10 kms) and was caused by heavy fog over Qiongzhou Strait in Haikou.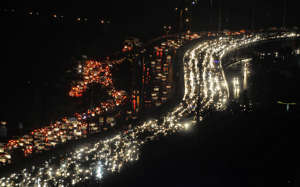 © Parveen Kumar/Hindustan Times via Getty Images Gurugram, India
India's industrial hub witnessed a jam extending up to 9 miles (15 km) in July 2016 due to heavy rain which led to massive waterlogging. Commuters were stuck for over 12 hours in the traffic snarl, which was normalized after nearly 24 hours.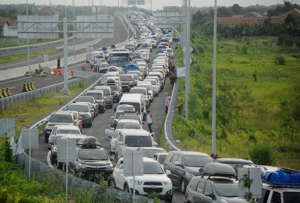 © Anadolu Agency/Getty Images Brebes, Indonesia
This 13-mile (21 km) long traffic jam lasted three days and claimed 12 lives. It happened in July 2016 at a major highway junction in the town on the island of Java. The entire stretch was choked with thousands of people headed home to celebrate Eid al-Fitr.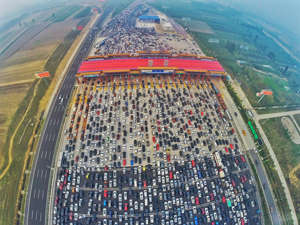 © Fu Ding/Fazhiwanbao/VCG via Getty Images Beijing-Hong Kong-Macau Expressway, China
In yet another holiday season disaster, thousands of motorists were stuck on the Beijing-Hong Kong-Macau Expressway in October 2015 thanks to a new checkpoint that reportedly caused 50 lanes to merge into 20.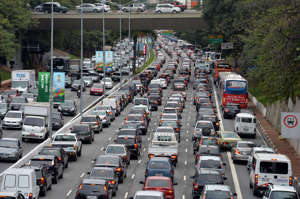 © NELSON ALMEIDA/AFP/Getty Images São Paulo, Brazil
The city, which was hosting several soccer World Cup games, came to a standstill due to a 214-mile (344 km) traffic jam in June 2014. The transportation problem was compounded by huge protests and incomplete projects.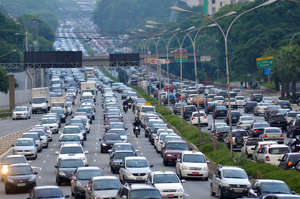 © Levi Bianco/Contributor/Getty Images São Paulo, Brazil

No stranger to tiring tailbacks, São Paulo witnessed another traffic snarl in November 2013. It happened on the day before a public holiday weekend and the jam was 192 miles (309 km) long.

(Pictured): Congested transit on 23 de Maio avenue in São Paulo, Brazil, on Nov. 26, 2013.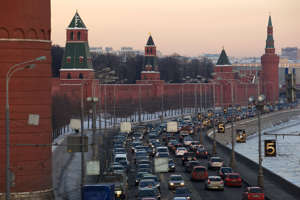 © Harry Engels/Getty Images Moscow, Russia
The traffic jam lasted three days and stretched to 124 miles (200 kilometers) after a major highway between Moscow and St. Petersburg was buried due to a snowstorm in November 2012.

(Pictured): A jam builds up on a road next to the Kremlin, in Moscow, Russia, on January 25, 2012.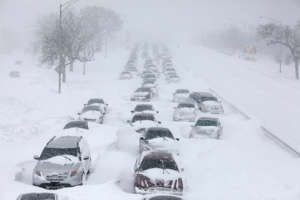 © Kiichiro Sato/AP Images Chicago, Illinois, US
Over 20 inches (50.8 cm) of snowfall in Chicago in February 2011 during rush hour was responsible for a massive 12-hour traffic jam in which many cars were almost completely buried.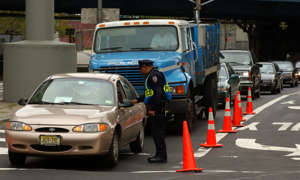 © Spencer Platt/Getty Images New York City, New York, US
After the terrorist attack on the World Trade Tower in September 2001, traffic across New York City came to a halt. The gridlock went on for a few days, with bridges and tunnels closed to everyone except emergency vehicles.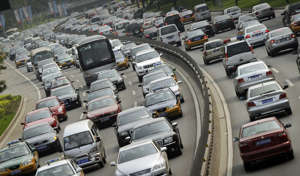 © Peter Parks/AFP/Getty Images Beijing, China
In August 2010, commuters on the Beijing-Tibet expressway found themselves stuck in a 62-mile (100 km) jam that lasted for 12 days! If you think the jam was caused by weather conditions or some sort of disaster, you'd be mistaken – it was just caused by too many cars on the road.

(Pictured): Cars seen in heavy traffic on one of Beijing's major ring roads on Sept. 2, 2010.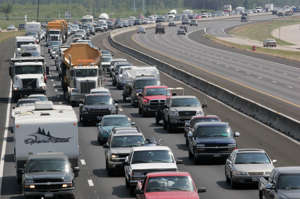 © Dave Einsel/Getty Images Houston, Texas, US
With news that Hurricane Rita – a Category 5 storm that would eventually cause damage worth billions of dollars – was fast approaching, over two million people were evacuating Houston, Texas, U.S., in September 2005. The rush led to a jam that stretched for 99 miles (160 km) and lasted for 48 hours.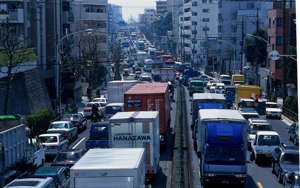 © ullstein bild via Getty Images Tokyo, Japan
There was complete chaos in August 1990 due to two reasons – a city-wide evacuation sparked by a typhoon warning and, strangely, large numbers of people returning home from holidays. The result was a jam involving over 15,000 cars spread over the 84 miles (135 km) between the Hyogo and Shiga prefectures in western Japan.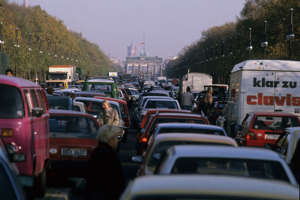 © ullstein bild via Getty Images East/West Germany
In April 1990, the tearing down of the Berlin Wall between East and West Germany led to a surge of people eager to cross into the other side of the city and meet family and friends during Easter holidays. That led to an estimated 18 million cars occupying space designed for 500,000. The result, predictably, was a jam that was about 30 miles (48 km) long.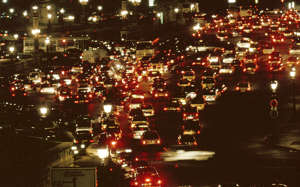 © Francois Le Diascorn/Gamma-Rapho via Getty Images Lyon-Paris, France
This jam was caused due to extreme weather conditions, leaving large numbers of Paris residents traveling from Lyon caught in a 109-mile (175 km) long queue in February 1980.

(Pictured): A traffic jam at La Concorde Square, in Paris, France.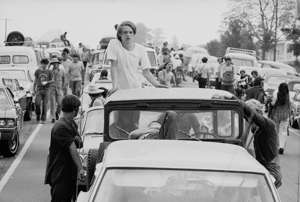 © Hulton Archive/Getty Images Bethel, New York, US
The organizers of a Jimi Hendrix performance at the now-iconic Woodstock music festival in 1969 expected 50,000 people to show up. Instead, nearly a million people came, causing a three-day jam of the New York Thruway that stretched for 20 miles (32 kms). It became so bad that some of the performers were ferried by helicopters and some of the fans simply abandoned their cars, choosing to walk the rest of the way. Eventually, 500,000 made it through.
Images marked pictured are for representational purposes.