32 mln people lose insurance under U.S. Senate Obamacare repeal plan -CBO

Reuters
7/19/2017
Video by CNBC
Thirty-two million Americans would lose their health insurance by 2026 under a U.S. Senate plan to repeal Obamacare without providing a replacement, the Congressional Budget Office reported on Wednesday.

The CBO estimated the number of uninsured would rise by 17 million next year alone if the Affordable Care Act were to be scratched without a new healthcare plan.
This is a breaking news update. Check back later for more.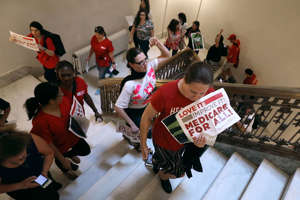 © Chip Somodevilla/Getty Images One of many groups protesting against the Republican health care repeal and replace legislation move through the Russell Senate Office Building on Capitol Hill July 19, 2017 in Washington, DC. Organized by Center for Popular Democracy, Housing Works, National Nurses United and other organizations, dozens of people were arrested for protesting against the GOP attempts to end Obamacare.