65 women defend Kavanaugh after sexual misconduct allegation

Washington Examiner
9/14/2018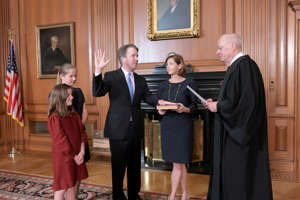 Slideshow by photo services
A group of 65 women have come to the defense of Supreme Court nominee Brett Kavanaugh, who is facing an allegation of sexual misconduct from the early 1980s in the lead-up to his confirmation vote.
The Senate Judiciary Committee on Friday released a letter from the women, who said they have known Kavanaugh for more than 35 years, including during his years at Georgetown Preparatory School, an all-boys school in North Bethesda, Md.
"For the entire time we have known Brett Kavanaugh, he has behaved honorably and treated women with respect," the women wrote in the letter to Senate Judiciary Committee Chairman Chuck Grassley, R-Iowa, and ranking member Dianne Feinstein, D-Calif. "We strongly believe it is important to convey this information to the Committee at this time."
The 65 signatories said they knew Kavanaugh through various activities and have remained close to him and his family.
"Through the more than 35 years we have known him, Brett has stood out for his friendship, character, and integrity," the women wrote. "In particular, he has always treated women with decency and respect. That was true when he was in high school, and it has remained true to this day."
The letter from the women comes after The New Yorker reported that Kavanaugh was accused by an unidentified woman of attempting to force himself on her during a party when they were in high school.
The woman detailed the encounter in a letter to Rep. Anna Eshoo, D-Calif., in July. Feinstein's office also received the letter, and the woman reached out to Feinstein's office directly, according to The New Yorker.
Kavanaugh has denied the allegation, saying he "categorically" and "unequivocally" denies the claim.
"I did not do this back in high school or at any time," he said.
The letter from the unnamed woman describing the incident has not been made public, but Feinstein released a statement Thursday saying she received "information" regarding Kavanaugh, which she passed on to federal authorities.
Revelations of the alleged encounter has riled Kavanaugh's nomination, which has already been subject to a fierce confirmation battle. The Senate Judiciary Committee is scheduled to vote on Kavanaugh's nomination Thursday.