Amid campaign troubles, Trump goes on attack against Clinton

USA TODAY
6/22/2016
NEW YORK — His campaign in turmoil, Donald Trump sought to get back on track Wednesday with a familiar tactic: attacking Hillary Clinton.

Clinton is "a world-class liar" who practices "the politics of personal profits and even theft," Trump said during a heavily promoted speech he delivered as members of the GOP continued to raise questions about his campaign organization and its ability to raise money.
Echoing attacks he has made throughout the campaign, Trump again claimed the former secretary of State has used her position to solicit contributions to the Clinton Foundation she sponsors along with former president Bill Clinton. Trump accused the foundation of accepting "blood money" from foreign governments that "brutalize"  women and gays.
"She ran the State Department as her own personal hedge fund," Trump told supporters packed into a small ballroom at one of his Manhattan hotels.
Trump also faulted Clinton over the economy, free trade, and some of her campaign contributions. Citing Democratic donations from Wall Street, he said donors "totally own her."
While Trump tries to make the fall election about Clinton, the Democratic candidate seeks to do the reverse, casting Trump as wholly unqualified for the presidency.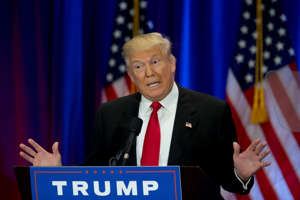 © (AP Photo/Mary Altaffer) Republican presidential candidate Donald Trump speaks in New York, Wednesday, June 22, 2016. Clinton campaign spokesperson Glen Caplin said Trump is "rehashing and recycling more tired and old nonsense from books that have already been debunked," all in an effort to distract voters from his campaign problems.
Trump's speech in New York City comes two days after he fired campaign manager Corey Lewandowski, 
The nominee-in-waiting's anti-Clinton speech — initially scheduled for last week, but delayed so that Trump could respond to the Orlando terrorist attack — is part of an attempt by the real estate mogul to move on after bad reports about the state of his campaign.
Hours after Lewandowski's dismissal, the Trump campaign filed a financial report showing it had only $1.3 million in the bank at the start of June; Clinton reported $42 million, one of the biggest financial advantages in the history of American politics.
Republicans continued to voice anxiety about the state of Trump's campaign, citing what they described as its small size, reluctance to invest in micro-targeting and other get-out-the-vote techniques and lack of message discipline.
Tom Rath, a Republican convention delegate from New Hampshire who is pledged to former Trump opponent John Kasich, said Trump's campaign trouble is not just a "process story."
It "guts his strongest argument — that he is an accomplished executive who makes large organizations work," Rath said.
Republican consultant Bruce Haynes, founding partner of Washington-based Purple Strategies, said the Trump campaign seems to be realizing that it has a different job in the general election than it did during the primaries, and "they have to make drastic changes fast."
They do have an advantage in that they are running against Clinton, who also has high disapproval ratings, Haynes said, but the Trump people "need a substantial infusion of money and a flawless convention to get back in the game."
For her part, Clinton on Tuesday delivered another speech describing Trump as temperamentally unfit for the presidency, focusing on economic polices that she said would lead to a recession.
As she did in an earlier speech hitting the Republican candidate over foreign policy, Clinton said, "every day we see how reckless and careless Trump is. He's proud of it."
David Brock, who heads a pro-Clinton political organization called Correct the Record, said in a memo to reporters that Trump's attacks on Clinton rely on "right-wing books" that have been discredited. He described Wednesday's speech as an attempt to divert attention from his own troubles.
"Donald Trump's presidential campaign is melting down," Brock said.
Trump and aides said his business acumen is superior to Clinton's government experience.
In a reference to Clinton's use of private email during her State Department tenure, Trump tweeted at one point Tuesday: "How can Hillary run the economy when she can't even send e-mails without putting entire nation at risk?"
The Trump team also unveiled a new website called "LyingCrookedHillary" as a repository for its various allegations.
Meanwhile, Trump and associates described Lewandowski's firing as part of an effort to re-orient his team toward the challenges of a fall campaign. They also downplayed the fundraising report, saying they have raised millions in June and that Trump can put in his own money if necessary.
Trump also sent out his first emailed fundraising solicitation on Tuesday, telling potential donors: "I'm fighting back against Crooked Hillary and her pathetic cronies, as well as the dishonest liberal media, and I need your help."
Yet he also blamed Republican critics for his money troubles, telling NBC's Today show on Tuesday that "I'm having more difficulty, frankly, with some of the people in the party" than the Democrats are having.
The campaign raised "a lot of money" during a nationwide tour last week, Trump told NBC, "but you also have to have some help from the party."
Republican critics said Trump's problems are self-inflicted, and they still hope to somehow head off his nomination at next month's convention in Cleveland.
GOP strategist Liz Mair, who has headed up a "Never Trump" group, said "convention delegates — and indeed Trump himself — ought to be looking for a way out of this, whether that means delegates throwing out the rule book, or Trump withdrawing and going back to running his business."