Analysis | 7 times Trump tried to call off the dogs on Russia

The Washington Post
8/24/2017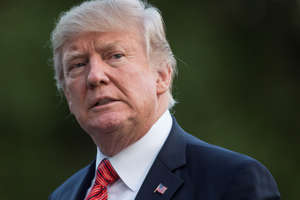 In a must-read piece, Politico reports that President Trump appeared to pressure two Senate Republicans to back off their Russia-related efforts. Josh Dawsey and Elana Schor report that Trump vented frustrations about Congress's Russia sanctions bill to Sen. Bob Corker (R-Tenn.) and tried to get Sen. Thom Tillis (R-N.C.) to back off a planned bill to protect Russia special counsel Robert S. Mueller III from being fired.
Add them to the list.
Subscribe to the Post Most newsletter: Today's most popular stories on The Washington Post
Trump's attempts to influence actions related to Russia and the investigation that is now focused on him personally constitute a growing volume. Just this weekend, in fact, the New York Times reported on another example that some may have missed.

Below, we recap all of them. If I missed one, email me.
1) Trying to get Tillis to back off
From Politico's report:
Trump dialed up Sen. Thom Tillis (R-N.C.) on Aug. 7. … The Mueller bill came up during the Tillis-Trump conversation, according to a source briefed on the call — the latest signal of the president's impatience with GOP senators' increasing declarations of independence from his White House. Trump was unhappy with the legislation and didn't want it to pass, one person familiar with the call said.
Trump's ability to fire Mueller has been chewed over for months, especially after an ally, Newsmax CEO Christopher Ruddy, said in June that Trump was considering it. Tillis stepped forward earlier this month in a somewhat surprising effort to protect Mueller. The bill would check the executive branch's ability to fire any special counsel by putting it in front of a panel of three federal judges.
2) Venting to Corker about sanctions bill
Also from Politico:
Trump expressed frustration over a bipartisan bill sanctioning Russia and tried to convince Senate Foreign Relations Chairman Bob Corker (R-Tenn.) that it wasn't good policy, according to three people familiar with the call. Trump argued that the legislation was unconstitutional and said it would damage his presidency. Corker was unrelenting, these people said, and told Trump the bill was going to pass both houses with bipartisan support.
"He was clearly frustrated," one person said of Trump's call with Corker earlier this month.
This is a particularly odd move from Trump, given the sanctions bill had overwhelming congressional support and was basically a foregone conclusion. Also, Trump's complaint that this would damage his presidency is a familiar theme.
3) Complaining to McConnell about not getting protection
The Times story this weekend about Trump's and Senate Majority Leader Mitch McConnell's (R-Ky.) strained relationship included a tantalizingly brief mention of Trump complaining to McConnell about McConnell not doing enough to protect him from the Russia probe:
During the call, which Mr. Trump initiated on Aug. 9 from his New Jersey golf club, the president accused Mr. McConnell of bungling the health care issue. He was even more animated about what he intimated was the Senate leader's refusal to protect him from investigations of Russian interference in the 2016 election, according to Republicans briefed on the conversation.
Again, it's notable here that Trump believes McConnell should be protecting him. (More of that to come.)
4) Asking Comey for loyalty
The New York Times reported back in May that Trump sought then-FBI Director James B. Comey's loyalty in the early days of the Russia investigation:
As they ate, the president and Mr. Comey made small talk about the election and the crowd sizes at Mr. Trump's rallies. The president then turned the conversation to whether Mr. Comey would pledge his loyalty to him.
Mr. Comey declined to make that pledge. Instead, Mr. Comey has recounted to others, he told Mr. Trump that he would always be honest with him, but that he was not "reliable" in the conventional political sense.
After Trump fired him, Comey testified and recounted their conversations. He said Trump said "I expect loyalty," and he also suggested Trump subtly threatened his job by asking him if he wanted to remain in it. Comey said Trump asked him if he wanted to remain FBI director, which he found "strange because he had already told me twice in earlier conversations that he hoped I would stay, and I had assured him that I intended to."
5) Suggesting Comey be lenient on Michael Flynn
Separately, Comey has said Trump asked him if he could take it easy on Flynn. "I hope you can let this go," Comey quoted Trump as saying in a memo written shortly after a meeting with Trump in February, as first reported by the Times.
Comey said in his later testimony that he understood it to be a direct request from Trump. "I mean, this is a president of the United States with me alone saying, 'I hope this.' I took it as, this is what he wants me to do," Comey said. "I didn't obey that, but that's the way I took it."
6) Asking Comey to say Trump wasn't under investigation
Comey said in his testimony that Trump asked him to say publicly what Comey had said privately: That Trump wasn't personally under investigation (at the time).
"He asked what we could do to 'lift the cloud,'" Mr. Comey said of a March 30 phone call. "I responded that we were investigating the matter as quickly as we could, and that there would be great benefit, if we didn't find anything, to our having done the work well. He agreed, but then reemphasized the problems this was causing him."
Comey also said he didn't want to have to recant his statement if Trump ever were to be the subject of investigation, which later turned out to be the case.
7) Asking Coats and Rogers to deny evidence of collusion
The Washington Post reported in May that Trump had, in March, tried to enlist Director of National Intelligence Daniel Coats and National Security Agency Director Michael Rogers to push back against the FBI investigation into ties between his campaign and Russia:
Trump made separate appeals to the director of national intelligence, Daniel Coats, and to Adm. Michael S. Rogers, the director of the National Security Agency, urging them to publicly deny the existence of any evidence of collusion during the 2016 election.
Coats and Rogers refused to comply with the requests, which they both deemed to be inappropriate, according to two current and two former officials, who spoke on the condition of anonymity to discuss private communications with the president.
In later testimony, Coats and Rogers did not directly respond to questions about this matter, but they did say they never felt pressured to intervene in the investigation.