Conway: Trump's Tweet Appearing To Confirm Federal Investigation Was Ironic
Talking Points Memo
6/19/2017
Senior White House adviser Kellyanne Conway on Monday said President Donald Trump was being ironic in a tweet that appeared to confirm he was under federal investigation. She claimed he is not, in fact, the subject of a probe.
Asked on "Fox and Friends" to respond to Trump lawyer Jay Sekulow's claim on Sunday that the President is not under investigation, despite his own tweet appearing to confirm that he is, Conway repeated Sekulow's explanation of the post.
"That's the President responding to a Washington Post report that included five anonymous sources," she said. "And that's the President in his 140 characters, through his significant social media platform, Ainsley, telling everybody, 'wow, look at the irony here.'"
Sekulow was less clear on the point during an interview on "Fox News Sunday," where he first claimed Trump is "being investigated for taking the action that the attorney general and deputy attorney general recommended him to take" and then insisted the President is "not being investigated."
Trump on Friday appeared to confirm he was under investigation in a tweet.
I am being investigated for firing the FBI Director by the man who told me to fire the FBI Director! Witch Hunt

— Donald J. Trump (@realDonaldTrump) June 16, 2017
Conway's explanation of Trump's tweet was at odds with the White House's usual line, which is that the President's tweets speak for themselves, even when they landhim in legal hot water.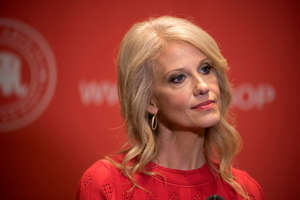 This article was written by Esme Cribb from Talking Points Memo and was legally licensed through the NewsCred publisher network. Please direct all licensing questions to legal@newscred.com.