Cruz, McConnell Urge High Court to Leave Gay Marriage to States

Bloomberg
4/4/2015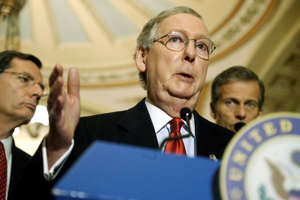 © Jonathan Ernst/Reuters U.S. Senate Majority Leader Mitch McConnell (R-KY).

(Bloomberg) -- Texas Senator Ted Cruz, the first declared candidate for a 2016 presidential nomination, and Republican Senate Majority Leader Mitch McConnell are among 57 U.S. lawmakers asking the Supreme Court to reject the notion of a constitutional right to gay marriage and leave the issue up to the states.
Their filing on Friday is among a flurry of submissions to the nine justices, who are set to hear argument over the issue on April 28. Same-sex marriage is currently allowed in 37 states and the District of Columbia.
The high court decided in January to consider whether the same-sex couples have a right to wed under the U.S. Constitution, taking up a bundle of cases emanating from Kentucky, Michigan, Ohio and Tennessee.
A Cincinnati-based federal appeals court in November said the matter was best left to "customary political processes," reversing a suite of lower-court rulings in favor of gay-marriage rights proponents. Four other regional appellate courts concluded state gay-marriage prohibitions violate U.S. constitutional protections.
McConnell, Cruz, U.S. Senator James Inhofe of Oklahoma and congressmen Louie Gohmert of Texas, Steve King of Iowa and the other legislators echoed the Cincinnati panel and urged the high court to exercise restraint.
"This court should respect the role of the states as laboratories of democracy and defer to the Democratic processes of the states," they said in their filing.
The high court this week received more than a dozen memos from non-parties with an interest in the outcome of the case, including one from 15 allied states. Two, Utah and Oklahoma, had previously asked the Supreme Court to review lower court decisions invalidating their same-sex marriage prohibitions. The high court declined to do so.
Filings in support of gays' right to marry have come from Goldman Sachs Group Inc., Google Inc., Walt Disney Co. and the Obama administration. The high court is expected to rule by the end of June.
Cruz, a first-term senator, announced his candidacy on March 23.
The case is Obergefell v. Hodges, 14-556, U.S. Supreme Court (Washington).
--With assistance from Greg Stohr in Washington.

To contact the reporter on this story: Andrew Harris in federal court in Chicago at aharris16@bloomberg.net To contact the editors responsible for this story: Michael Hytha at mhytha@bloomberg.net Peter Blumberg