Democrats poised to delay Kavanaugh vote until next week

Washington Examiner
9/12/2018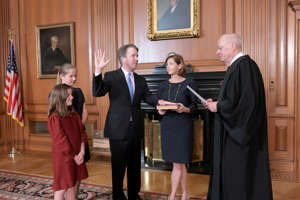 Slideshow by photo services
Democrats are poised to block a Thursday committee vote to advance the nomination of Brett Kavanaugh to the Supreme Court.
Senate Judiciary Committee Chairman Chuck Grassley, R-Iowa, placed Kavanaugh's nomination on Thursday's schedule. But Democrats will likely use a committee rule that allows them to keep the nomination on hold for at least another week.
That means a Judiciary Committee vote on Kavanaugh isn't likely to happen until Sept. 20 at the earliest.
"I expect that the minority will request that the nomination be held, so a vote is unlikely on Thursday," George Hartmann, a spokesman for the Senate Judiciary Committee, told the Washington Examiner.
Democrats haven't indicated what they will do on Thursday. But judicial nominees "are typically held over for one week after they are first listed on the agenda," said Ashley Schapitl, spokeswoman for Sen. Dianne Feinstein, of California.
Kavanaugh's name is listed atop an agenda to advance two dozen judges and five bills. The hearing comes a week after the panel grilled Kavanaugh for days at a confirmation hearing frequently interrupted by the shouts of protesters and by panel Democrats who moved to delay the proceedings.
Feinstein is the top Democrat on the panel.
She has not signaled whether she will support Kavanaugh but has criticized the nominee.
Feinstein on Sunday told a group at a Santa Barbara lunch she believes Kavanaugh views Trump as an "oligarch," the Los Angeles Times reported.
"The president believes he is above the law," Feinstein said. "And this nominee believes this president cannot be investigated, cannot be tried."
Sen. Mark Warner, of Virginia, who is the top Democrat on the Intelligence Committee and is leading an investigation into whether Trump's campaign colluded with Russians, announced Tuesday he will vote against Kavanaugh. Sen. Michael Bennet, D-Colo., added his name to the growing list of Democratic opponents.
But while Democrats can delay the committee vote, they lack the power to block Kavanaugh, who needs a simple majority to be confirmed. The Judiciary Committee is made up of 11 Republicans and 10 Democrats.
Sen. Chris Coons, D-Del., a member of the panel, on Tuesday called on Kavanaugh to "correct the record" on his views about executive power and whether he must respond to special counsel Robert Mueller, who is investigating Russian meddling in the 2016 presidential election, and whether Trump's campaign was involved.
"The American people deserve to know if Judge Kavanaugh still holds a broad view of executive power that would allow this president, or any president, to be above the law, including having the ability to fire a special counsel investigating him just for doing his job," Coons said Tuesday.
"The Supreme Court must be a constitutional bulwark against abuses of power by anyone, including the president. I'm concerned Judge Kavanaugh won't provide that critical check," he said.
Majority Leader Mitch McConnell, R-Ky., said Tuesday in an interview aired by WAVE in Louisville that the Senate would vote on Kavanaugh's nomination the last week of September, in time for the Oct. 1 start of the Supreme Court term.
"I'm confident he will be confirmed," McConnell said.