Donald Trump, minus teleprompter, is back, mocking Obama and Clinton

Tribune Washington Bureau
6/15/2016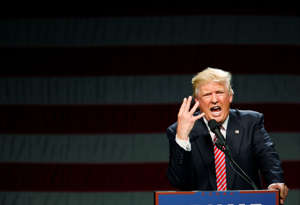 © REUTERS/Jonathan Drake Republican presidential candidate Donald Trump speaks at a campaign rally in Greensboro, North Carolina on June 14, 2016. GREENSBORO, N.C. — The real Donald Trump — as opposed to the teleprompter version — returned in full force Tuesday as he took on President Barack Obama and Hillary Clinton for their criticism of his response to the Orlando massacre.
Trump mocked them both.
Before a cheering crowd in Greensboro, he complained that Obama was more focused on Trump than on the mass shooting.
"He was more angry at me than he was at the shooter," Trump said.
And he imitated Clinton stumbling over her own scripted speech about national security.
Mainly, though, Trump's performance in this crucial swing state offered an unplugged prelude of the general election battle to come.
In full display was a reminder of why supporters embrace his impolitic tough talk — and why the GOP establishment is having second thoughts over its presumed nominee.
"We're led by the stupid people," Trump said at one point. "We're not going to be fools anymore."
The rally was Trump's first since the weekend shooting at a gay nightclub in Florida and provided an opportunity for him to link two issues, immigration and terrorism, that have propelled his campaign.
He led the crowd of thousands in his by-now standard cheer about his immigration plan — "Build the wall!" the crowd chanted — as he warned of immigrants wanting to harm Americans.
After days without a big rally, Trump seemed to be enjoying the return to his element, rambling at times in a talk that hit many of his familiar themes — jobs, the trade deficit — and stretched to nearly an hour. Some people left early.
As he wrapped up, Trump pivoted to the campaign ahead and offered fresh evidence that the candidate whose party leaders hoped he would become more presidential was in fact more likely to just be himself.
Bringing up who he'd like Clinton to choose as a running mate, Trump referred to Massachusetts Sen. Elizabeth Warren not by name, but by the slight he has bestowed on her.
"I hope it's Pocahontas," he said.