Duck Dynasty's Phil Robertson Endorses Cruz After Duck Hunting Trip (VIDEO)
Talking Points Memo
1/13/2016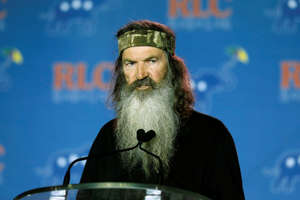 Phil Robertson, the patriarch of A&E's "Duck Dynasty" reality TV show, has endorsed Sen. Ted Cruz's presidential bid, the campaign announced on Wednesday.

In a video showing the two duck hunting together, Robertson lists the qualities he's looking for in a presidential candidate, demanding that his choice be willing to "kill a duck and put him in a pot and make 'em a good duck gumbo."
"Ted Cruz is my man. He fits the bill. He's godly, he loves us, he's the man for the job, and he will go duck hunting," Robertson said in the videopromoted on the Cruz campaign's website.
The Robertson family has been a favorite among conservative politicians, as son Willie Robertson attended the 2014 State of the Union address and defended Sen. David Vitter (R-LA) in his gubernatorial bid. Phil Robertson is also know for controversial statements about "homosexual behavior."
Watch the endorsement video:
This article was written by Caitlin MacNeal from Talking Points Memo and was legally licensed through the NewsCred publisher network.