Former CIA Chief: Russia Must Have Something On Trump

Newsweek
7/18/2018
Video by MSNBC
A former CIA director believes the Russians must have a hold over president Donald Trump, given his recent behaviour towards Russian President Vladimir Putin during their meeting in Helsinki, Finland.
Speaking in an interview with MSNBC on Tuesday night, Leon Panetta, who served as CIA chief under former President Barack Obama and oversaw operations to take down Osama Bin Laden, suggested Russia must have some information on the president that intimidates him.
"There is no question that there is something here that intimidates the president of the United States," Panetta told anchor Brian Williams.
"This president basically coddled Mr. Putin and it was clear that he was intimidated by that situation. Whether the Russians have something on this president or not, no one really knows, but the way he behaves, there is a clear signal that the Russians have something on him."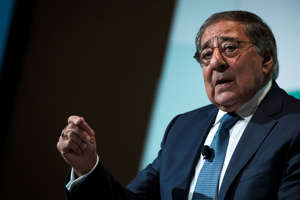 © Drew Angerer/Getty Images Leon Panetta, former U.S. Defense Secretary and former director of the Central Intelligence Agency, speaks during a discussion on countering violent extremism, at the Ronald Reagan Building and International Trade Center, October 23, 2017 in Washington, DC. Panetta's comments come as Trump faces backlash for his remarks made during the joint press conference with Putin that appeared to indicate he believed the Russian leader's denial of election interference over the information provided by his own intelligence agencies.
"They say it's Russia. I have President Putin. He just said it's not Russia," Trump told reporters during the press conference with Putin. "I will say this: I don't see any reason why it would be…. I have great confidence in my intelligence people, but I will tell you that President Putin was extremely strong and powerful in his denial today."
This immediately provoked a backlash from Democrats and a number of Republican lawmakers, as well as commentators.
Trump's comments were slammed as "disgraceful" by Republican Senator John McCain, and publicly questioned by House Speaker Paul Ryan.
However, the president walked back his comments made in Helsinki, stating on Tuesday that he did have confidence in U.S. intelligence agencies.
"I have full faith and support for America's great intelligence agencies. Always have," ABC Newsreported Trump saying.
Pres. Trump says he misspoke at yesterday's joint presser with Vladimir Putin, meant to say there was no reason "it wouldn't be Russia" behind election meddling.

"I said the word would instead of wouldn't...I think that probably clarifies things pretty good by itself." pic.twitter.com/BO93vdvoQP

— ABC News Politics (@ABCPolitics) July 17, 2018
"I accept our intelligence community's conclusion that Russia's meddling in the 2016 election took place," he added before saying: "it could be other people, also. A lot of people out there."
Panetta also seemed to question Trump's later comments that he had confidence in his own intelligence agencies, saying that the president "knew the truth" on election meddling. "And the truth is that the Russians were behind this."