Former Fox journalist cooperating with congressional investigators

Washington Examiner
3/21/2019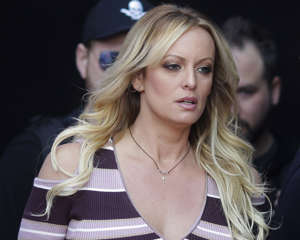 © Associated Press FILE - In this Oct. 11, 2018, file photo, adult film actress Stormy Daniels arrives for the opening of the adult entertainment fair "Venus" in Berlin. Daniels has sued the Columbus police department for $2 million over her arrest at a strip club last summer. The federal defamation lawsuit filed Monday, Jan. 14, 2019, alleges officers conspired to retaliate against Daniels for her sex allegations concerning Donald Trump before he became president. (AP Photo/Markus Schreiber, File)
Former Fox News journalist Diana Falzone is reportedly cooperating with Congress over allegations that the network tried to stop her from reporting on Stormy Daniels during the 2016 election.
Last week, House Oversight Committee Chairman Elijah Cummings, D-Md., requested that Falzone speak to investigators and provide documents related to her reporting on the alleged hush money payments from Trump's former lawyer Michael Cohen to Daniels during the 2006 affair. MSNBC reported Wednesday that Falzone was cooperating with congressional investigators over the matter.
The allegations that Fox News spiked to the story came in a piece by the New Yorker detailing ties between the news network and the White House.
Falzone had signed a non-disclosure agreement after departing Fox News, but last week, Falzone's lawyer Nancy Erika Smith said that there was a workaround on the agreement that could allow Falzone's story to get out.
"The law requires that you be allowed to participate in any government investigation — and no NDA can stop that," Smith said.
Fox News has denied it spiked the story, a Fox executive said that the story was stopped because it was not journalistically sound, not for political reasons.
The Washington Examiner did not immediately receive a response from the House Oversight Committee about Falzone's cooperation.