GOP Rep. breaks with Trump: Cutting health care subsidies does 'opposite' of what he promised

The Hill
10/13/2017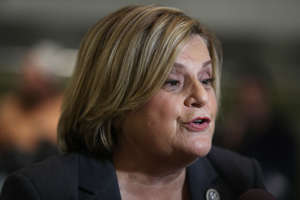 A Republican lawmaker slammed President Trump's action on health care subsidies on Friday, saying it is the "opposite" of what he promised.

Rep. Ileana Ros-Lehtinen (R-Fla.) said that cutting key payments to ObamaCare insurers will mean more of her constituents will be uninsured.

"POTUS promised more access, affordable coverage," Ros-Lehtinen tweeted. "This does opposite."
Cutting health care subsidies will mean more uninsured in my district. @potus promised more access, affordable coverage. This does opposite.

- Ileana Ros-Lehtinen (@RosLehtinen) October 13, 2017
Trump announced on Thursday that he would end subsidies for insurers that sell ObamaCare plans, as part of his efforts to dismantle the health care law after congressional Republicans failed to repeal it this year.
Some states have already threatened to sue the Trump administration over the cuts, known as cost sharing reduction (CSR) payments, which are worth an estimated $7 billion.
The president signed an executive order on Thursday directing agencies to take action that many say would undermine ObamaCare by allowing people to purchase cheaper health care plans.