Gun violence: What Trump said, what Trump did

NBC News
3/12/2018
WASHINGTON — President Donald Trump shocked gun rights groups last month when he told lawmakers in a White House discussion that he supported an increase in the age limit for purchasing firearms, wanted to remove weapons from threatening gun owners and put "due process second," and expressed interest in a universal background check bill that the NRA strongly opposed.
But two weeks later and after a friendly meeting with the NRA's top lobbyist, the White House put out a plan Sunday night for confronting gun violence that was more limited. Here are some of the topics raised in the meeting and in Trump's past tweets and statements versus what was in the new policy paper.
Raising the age limit
What Trump said: The president made clear loud and early after the Parkland high school shooting last month that he wanted to raise the age to buy a gun to 21, which currently applies only to handguns.
I will be strongly pushing Comprehensive Background Checks with an emphasis on Mental Health. Raise age to 21 and end sale of Bump Stocks! Congress is in a mood to finally do something on this issue - I hope!

— Donald J. Trump (@realDonaldTrump) February 22, 2018
Not only did Trump propose an age limit increase, he told one Republican senator in their televised White House meeting on guns that the lawmaker was "afraid of the NRA" for not addressing it earlier and repeatedly noted that his own position put him at odds with the gun lobby.
What Trump did: The White House did not call on Congress to raise the federal age limit from 18 to 21. Instead, a commission chaired by Education Secretary Betsy DeVos will consider the policy.
In a tweet, Trump said they were "watching court cases" before making a decision. After previously noting that his support for raising the age limit was "not a popular thing to say, in terms of the NRA, but I'm saying it anyway," Trump said Monday that there was "not much political support (to put it mildly)" for the idea.
....On 18 to 21 Age Limits, watching court cases and rulings before acting. States are making this decision. Things are moving rapidly on this, but not much political support (to put it mildly).

— Donald J. Trump (@realDonaldTrump) March 12, 2018
Universal background checks
What Trump said: While never committing to a bill, Trump expressed strong interest in bipartisan legislation by Sens. Joe Manchin, D-W.Va., and Pat Toomey, R-Penn., that would expand background checks to private and online sales, which is a top priority for gun violence prevention groups.
"I mean, you went through a lot of presidents, and you didn't get it done," Trump said in his White House meeting with lawmakers when universal background checks came up. "But you have a different president, and I think, maybe, you have a different attitude, too. I think people want to get it done."
Several senators told Trump his support was critical to passing the bill. He asked them to consider expanding Manchin-Toomey to include more measures as well, like a higher age limit.
What Trump did: The White House did not come out in support of Manchin-Toomey or similar legislation.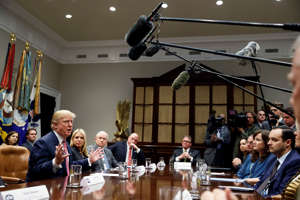 Fix NICS Act
What Trump said: He expressed interest in the Fix NICS Act, a less far-reaching background check bill backed by Sens. John Cornyn, R-Texas, and Chris Murphy, D-Conn., that seeks to improve enforcement of the existing system by keeping records better updated. But Trump said the legislation should be "much more comprehensive" and didn't go far enough. He also told House Majority Whip Steve Scalise, R-La., that the House's version, which would force states to accept concealed carry permits, was too divisive to pass.
"Fix NICS has some really good things in it, but it would be nice if we could add everything onto it," the president said in the White House meeting. "And maybe you change the title, all right? 'The U.S. background check bill' or whatever."
What Trump did: The White House announced on Sunday night it supports the Fix NICS Act, but did not mention any other federal legislation that affects firearm sales.
Arming teachers
What Trump said: The president repeatedly spoke and tweeted about arming trained teachers with relevant experience in order to respond to a school shooter.
I never said "give teachers guns" like was stated on Fake News @CNN & @NBC. What I said was to look at the possibility of giving "concealed guns to gun adept teachers with military or special training experience - only the best. 20% of teachers, a lot, would now be able to

— Donald J. Trump (@realDonaldTrump) February 22, 2018
....immediately fire back if a savage sicko came to a school with bad intentions. Highly trained teachers would also serve as a deterrent to the cowards that do this. Far more assets at much less cost than guards. A "gun free" school is a magnet for bad people. ATTACKS WOULD END!

— Donald J. Trump (@realDonaldTrump) February 22, 2018
What Trump did: The White House announced that the Justice Department would help educators work with their state and local governments to train "specially qualified school personnel on a voluntary basis" in firearms.
The administration also announced it would back the STOP School Violence Act, which would provide $50 million in annual grants to states to help schools and law enforcement add security and train for an attack.
Extreme Risk Protection Orders
What Trump said: The president expressed strong interest in proposals by Sen. Marco Rubio, R-Fla., and others to pass laws that would allow police, family and friends to seek an Extreme Risk Protection Order in court that would temporarily take firearms from an individual they worry could hurt themselves or others.
Trump sparked an outcry on the right when he complained that going to court was too burdensome and police should take guns immediately from suspects instead.
"You could do exactly what you're saying, but take the guns first, go through due process second," he said in his White House meeting with senators.
What Trump did: The White House encouraged every state to pass Extreme Risk Protection Order laws, which a fact sheet said "should be carefully tailored to ensure the due process rights of law-abiding citizens are protected." The NRA has opposed prior state legislation on gun restraining orders, citing due process concerns.
The administration did not weigh in on legislation in the Senate by Sens. Richard Blumenthal, D-Conn., and Lindsey Graham, R-S.C., that would allow people to petition federal courts as well. Other federal legislation, also not mentioned in the administration's new gun rollout, would give states grants to help implement Extreme Risk Protection Orders.
Domestic violence
What Trump said: At his meeting with senators, Trump said he favored a proposal by Sen. Amy Klobuchar, D-Minn., that would make it harder for people convicted of abusing a dating partner to buy firearms.
"I would say this: We're going to get it passed," he said. "If you can add domestic violence paragraphs, pages into this bill, I'm all for it. I think it's terrific if you can do it. It could be done."
What Trump did: The White House's announcement did not mention legislation related to domestic violence.