Ivanka Trump will take part in presidential trip

Associated Press
5/19/2017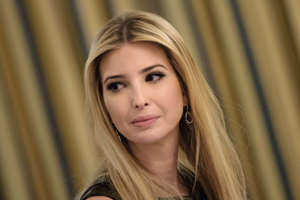 © BRENDAN SMIALOWSKI/AFP/Getty Image Ivanka Trump will discuss women's issues and human trafficking during the trip. WASHINGTON — Ivanka Trump will travel with the president to Saudi Arabia, Israel and Italy on his upcoming foreign trip.
Ivanka Trump is a senior adviser to President Donald Trump. A White House adviser says Ivanka Trump will be along for six days of the nine-day trip, which begins Friday. She'll join her father for some events and also hold some of her own.
The official insisted on anonymity in order to discuss planning details. The official says in Saudi Arabia, Ivanka Trump will take part in a roundtable to discuss women's economic issues.
Ivanka Trump converted to Judaism when she married Jared Kushner. The official says in Israel, she will visit the Western Wall with the president, and in Rome, she will discuss human trafficking.