Justice Department's No. 3 official to resign: report

The Hill
2/9/2018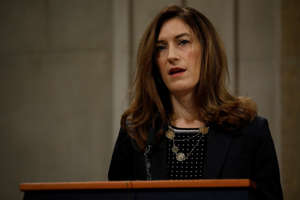 Associate Attorney General Rachel Brand is stepping down from her post as the Justice Department faces intense criticism from President Trump.
The New York Times reported Friday that Brand is resigning after nine months on the job. She is expected to take a job as general counsel in the private sector.
As the No. 3 official at the Justice Department, Brand would be next in line to oversee special counsel Robert Mueller's investigation into Russian meddling in the 2016 election, which Trump has blasted as a "witch hunt."
That investigation is currently being overseen by Deputy Attorney General Rod Rosenstein. Attorney General Jeff Sessions recused himself from the inquiry last year, after it was revealed that he met with Russia's ambassador to the U.S. during the 2016 presidential election.
A spokesperson for the Justice Department did not immediately respond to a request for comment.
DEVELOPING ...