State Department inspector general to meet with Hill committees Wednesday

The Washington Post
10/2/2019
Video by Reuters
The State Department inspector general and two former state officials agreed to meet with lawmakers on Capitol Hill after Secretary of State Mike Pompeo told House Democrats on Tuesday that State Department officials scheduled to appear this week for depositions before committees conducting the impeachment inquiry would not show up.
Pompeo's refusal, relayed in a letter, came amid tweets from President Trump, including one questioning why he is not "entitled to interview & learn everything about" a whistleblower whose identity is protected by federal statute.
Subscribe to the Post Most newsletter: Today's most popular stories on The Washington Post
Trump also again insisted that his July call with Ukrainian President Volodymyr Zelensky was "PERFECT," dismissing concerns at the core of the whistleblower's complaint that Trump pressed for an investigation of former vice president Joe Biden and his son. 

● Attorney General William P. Barr has held private meetings overseas with foreign intelligence officials seeking their help in a Justice Department inquiry that Trump hopes will discredit U.S. intelligence agencies.
●The Ukraine story appears to be hurting Trump — and possibly Biden, too.
Read the whistleblower complaint | The rough transcript of Trump's call with Zelensky | Related coverage and analysis of the Trump impeachment inquiry
8:45 p.m.: Giuliani continues to get blowback from some Republicans
Trump's personal lawyer, Rudolph W. Giuliani, has come under criticism from some Republicans for his unpredictable TV appearances and his efforts to press Ukraine to investigate Biden.
On Tuesday night, he continued to face blowback.
"I think it was a mistake to dispatch him on some kind of diplomatic mission," Fox News Channel legal analyst Andrew Napolitano said of Giuliani, who was issued a subpoena by four House committee chairs on Monday.
While it remains unclear whether Giuliani was acting as an attorney or as a diplomat during his visits to Ukraine and elsewhere, Napolitano said, "if Rudy was acting as a diplomat, then there's no privilege in his communications."
"I suspect we're going to hear less from Rudy, because he now has a lawyer … who will basically say, 'Mr. Mayor, zip it,'" he added.
Slideshow by photo services
7:50 p.m.: Trump hauls out the rhetorical heavy artillery, accuses Democrats of 'COUP'
In Tuesday night tweets, Trump escalated his attacks on Democrats, arguing that "what is taking place is not an impeachment, it is a COUP."
Democrats' actions, he claimed, are "intended to take away the Power of the People, their VOTE, their Freedoms, their Second Amendment, Religion, Military, Border Wall, and their God-given rights as a Citizen of The United States of America!"
The president is bringing the rhetorical heavy artillery to the most serious challenge to his presidency in nearly three tumultuous, norm-busting, warp-speed years in office.
Expanding on the lexicon of outrage and victimhood honed during the probe into Russian interference in the last election, Trump is invoking the muskets-and-ramparts idioms of the country's beginnings.
The ratcheting up of his rhetoric is also indicative of Trump's tendency to interpret any criticism of him as an attack on the government, worrying critics and scholars who warn of the dangers posed by his l'état, c'est moi call to arms.
Read more here .
— Anne Gearan
7:30 p.m.: Schiff will appear at Pelosi's weekly presser
Intelligence Committee Chairman Adam B. Schiff (D-Calif.) will join House Speaker Nancy Pelosi (D-Calif.) for her weekly news conference on Wednesday, Pelosi's office announced Tuesday night.
Schiff has become the public face of House Democrats' impeachment push, and most Democrats see the intelligence panel as a more appropriate venue than the House Judiciary Committee for investigating Trump's efforts to push Ukraine to investigate Biden.
6:25 p.m.: What can Congress do if Mike Pompeo won't cooperate with its impeachment inquiry?
A major early step of the House Democrats' impeachment inquiry is to talk to the top administration officials who would have had knowledge about Trump's work with Ukraine.
But like a number of other high-profile Trump administration officials, Pompeo is resisting. And Congress may not have a lot of options left to force potentially key players in its impeachment inquiry to speak to it. The rule book for how to be a check on the executive branch doesn't include an executive branch unwilling to cooperate.
Pompeo is staking his argument on both procedural and political grounds. Procedurally, he accuses Democrats of not providing a technical document, called a Notice of Deposition, to have his staff testify. He says they were not given enough time, and he is demanding that State Department lawyers be present during testimony to assert executive privilege.
Read more here.
— Amber Phillips
6:00 p.m.: Pro-impeachment group to spend $3.1 million targeting Senate Republicans
A group pushing for Trump's impeachment is launching a $3.1 million ad campaign targeting Republican senators over the coming weeks -- the first major pro-impeachment advocacy spending since the House launched their formal inquiry last week.
The group, Need to Impeach, is funded mainly by billionaire Democratic presidential candidate Tom Steyer. Top executives said Tuesday that it will spend more than half of the overall campaign total on television ads, with the rest underwriting digital ads.
Targeted by the campaign are GOP Sens. Susan Collins of Maine, Joni Ernst of Iowa, Cory Gardner of Colorado and Martha McSally of Arizona, all of whom are seeking reelection next year and could cast votes in the coming months on whether Trump should be removed from office.
"With all that our country stands for, how can we have a president who thinks the law doesn't apply to him?" a voiceover says in a sample ad provided to The Washington Post ahead of a scheduled Thursday debut. "Who would bargain away the security of our nation and our elections for his own political gain? We are patriots who have always protected democracy. Will our senator?"
Read more here.
— Mike DeBonis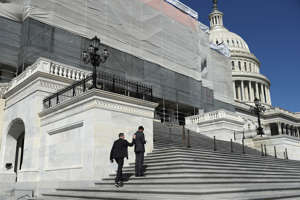 © Getty Images WASHINGTON, DC - SEPTEMBER 27: Members of the House of Representatives head into the U.S. Capitol Building ahead of final votes before a two-week state work period September 27, 2019 in Washington, DC. Following the release of a whistle-blower complaint claiming abuse of power by President Donald Trump, the House Democratic leadership announced this week that it is launching a formal impeachment inquiry. (Photo by Chip Somodevilla/Getty Images) 5:15 p.m.: Volker, Yovanovitch will appear before House panels this week
Kurt Volker, the former Trump administration special envoy to Ukraine, has confirmed that he will appear Thursday before the House Intelligence, Foreign Affairs and Oversight Committees, according to an official on one of the panels.
Volker had held the Ukraine job part-time for the past two years until his resignation last week.
Former U.S. ambassador to Ukraine Marie Yovanovitch, who had originally been scheduled to appear before the committees Wednesday, will instead appear Oct. 11, according to the official.
Yovanovitch was recalled from her position in Ukraine this year amid a flurry of political attacks by conservative media and other allies of Trump, including Giuliani, who targeted her with wild accusations and argued that she "should be part of the investigation as part of the collusion."
5 p.m.: State Department inspector general to meet with Hill committees Wednesday
Key committees on Capitol Hill were notified Tuesday that the State Department's inspector general has requested to speak with them Wednesday "to discuss and provide staff with copies of documents related to the State Department and Ukraine," according to a letter obtained by The Washington Post.
The offer by the office of Steve Linick, which operates mostly independently from the State Department and is responsible for investigating abuse and mismanagement, comes amid a standoff between Secretary of State Mike Pompeo and House Democrats demanding documents and testimony on Ukraine-related matters for their impeachment inquiry.
Linick's office "obtained the documents from the acting legal adviser of the Department of State," the letter said. The inspector general doesn't have to seek Pompeo's approval to approach the Hill with information, especially if it is not classified.
It is unclear exactly what Linick will provide the committees, which include the panels in charge of foreign relations, intelligence, appropriations and oversight in the House and Senate. But the demand for any credible information related to Ukraine and the State Department is at a fever pitch as Democrats seek to build the case for Trump's ouster out of his dealings with Ukraine's leadership.
Earlier Tuesday, Pompeo suggested that Foggy Bottom would not acquiesce with Democratic lawmakers' demands to interview several State Department officials, alleging "serious substantive and procedural deficiencies" with their investigation.
He said Democrats were trying to "intimidate" and "bully" his colleagues at the State Department.
— Karoun Demirjian and John Hudson
4:30 p.m.: Hillary Clinton to Giuliani: 'Yes, I am famously under-scrutinized.'
Giuliani tweeted that the news media is attacking him because he's the messenger and it wants to cover up the message of "Dem corruption."
"Meanwhile, they have yet to ask Biden difficult questions because he is protected and immune like the Clintons and crooked Clinton Foundation!" Giuliani wrote.
To which Hillary Clinton responded, on Twitter, "Yes, I am famously under-scrutinized."
There is, of course, no shortage of controversies that dogged Clinton and her husband during their decades in public life. In fact, an investigation into the Clintons' real estate investments, famously known as the Whitewater scandal, led investigators to Monica Lewinksy and resulted in President Bill Clinton's impeachment over his lying under oath and obstruction of justice.
4:25 p.m.: Sen. Menendez questions Pence, Rick Perry roles in Trump's Ukraine controversy
Sen. Robert Menendez (D-N.J.) sent letters to Vice President Pence and Energy Secretary Rick Perry inquiring about whether they had any role in Trump's asking Ukraine for information that could help him in the 2020 election.
In his letter to Pence, Menendez noted the vice president's canceled trip to Ukrainian President Zelensky's inauguration and then his meeting with Zelensky in September. Menendez's letter questions whether Pence spoke to Zelensky about the hold on U.S. military assistance and the desire for information about former vice president Joe Biden's son.
Menendez, the ranking Democrat on the Senate Foreign Relations Committee, also asked Perry, who went to the inauguration in Pence's place, how it came about that he led the delegation and whether Trump had asked him to relay a message to any Ukrainian officials about getting assistance in investigating Biden.
3:50 p.m.: Waters says impeachment inquiry may not be limited to Ukraine
Rep. Maxine Waters, chairwoman of the House Financial Services Committee, said despite Pelosi talking about focusing the impeachment inquiry on Trump and Ukraine, Waters said a final decision about what to include has not been made.
"I still have an opportunity as one of the six committees involved in investigating him to help basically determine what is going to go into the impeachment resolution. The six of us will be getting together with our information that we will place on the table and with the speaker," Waters said in an interview.
Waters also said she's "very pleased that Trump is finally being caught in some actions that has caused not only Nancy Pelosi to reverse her thinking about impeachment but it is also gotten us to the point where we have support from basically all of our caucus, or most of our caucus, and the American people, it appears."
— Vanessa Williams
2:30 p.m.: House chairmen say Pompeo should 'immediately cease intimidating' witnesses
The chairmen of three House committees responded to Pompeo in a statement Tuesday afternoon in which they called on the secretary of state to "immediately cease intimidating" State Department witnesses "in order to protect himself and the President."
The statement from House Foreign Affairs Committee Chairman Eliot L. Engel (D-N.Y.), Schiff and Oversight Committee Chairman Elijah E. Cummings (D-Md.) came after Pompeo said that State Department officials would not show up for their scheduled depositions this week.
"Secretary Pompeo was reportedly on the call when the President pressed Ukraine to smear his political opponent," the chairmen said. "If true, Secretary Pompeo is now a fact witness in the House impeachment inquiry. He should immediately cease intimidating Department witnesses in order to protect himself and the President."
They added that "any effort to intimidate witnesses or prevent them from talking with Congress — including State Department employees — is illegal and will constitute evidence of obstruction of the impeachment inquiry."
"In response, Congress may infer from this obstruction that any withheld documents and testimony would reveal information that corroborates the whistleblower complaint," they said.
1:30 p.m.: Waters says Trump should be imprisoned and placed in solitary confinement
Rep. Maxine Waters (D-Calif.) said Tuesday that Trump should be imprisoned and placed in solitary confinement — but added impeachment "is the imperative."
Waters, chairwoman of the Financial Services Committee, reacted on Twitter to Trump's recent comments about unmasking the whistleblower and describing those who provided him with information as spies.
"I'm calling on the GOP to stop Trump's filthy talk of whistleblowers being spies & using mob language implying they should be killed," Waters tweeted. "Impeachment is not good enough for Trump. He needs to be imprisoned & placed in solitary confinement. But for now, impeachment is the imperative."
1:15 p.m.: GOP senator prepares bill intended to call out Hunter Biden's work in Ukraine; Democrat calls it a 'silly, political hit job'
Sen. John Neely Kennedy (R-La.) said he plans to introduce a narrowly focused bill to ban immediate family members, specifically parents, children and siblings, of top U.S. political officials, including the president, the vice president, the president's Cabinet and members of Congress, from earning income in Ukraine.
"The Ukraine government is historically corrupt, which is one way Russia exerts influence there," Kennedy said in a news release. "The best way to resist temptation is a proper upbringing, a strong set of values and tough laws."
Though he doesn't name former vice president Joe Biden or his son Hunter, it's clear Kennedy's bill is an attempt to focus attention on Hunter Biden's former position on the board of a Ukrainian gas company. Trump tried to obtain more information about Biden's work from the Ukrainian president during their July 25 call, which is now the subject of the House's impeachment inquiry.
Sen. Chris Murphy (D-Conn.) referred to Kennedy's bill as "obviously a silly, political hit job." But he tweeted to his colleague that if Kennedy wants to "apply something like this to all foreign countries and make sure it applies to the President's kids too" then to call him.
12:45 p.m.: Republicans and Democrats spar over Pompeo accusations
Seeking to discredit the impeachment inquiry, House Republicans seized on Pompeo's contention in a letter that Democratic staffers are trying to "intimidate" and "bully" State Department officials who play a role in U.S. relations with Ukraine.
"Democrats have been trying to impeach the president since the day he was sworn in," House Minority Leader Kevin McCarthy (R-Calif.) said in a tweet. "Now they're harassing civil servants at the State Department to try to achieve their objective. They're putting their own political interests ahead of the country."
His comments echoed those of two of Trump's closest Republican allies in Congress, Reps. Jim Jordan (Ohio) and Mark Meadows (N.C.).
Meadows said in a tweet that Schiff had "made it clear House Democrats are willing to bully and intimidate career professionals as a means to their end goal of politically targeting @realDonaldTrump."
"It's unacceptable. It's damaging to the country. We won't stand for it," Meadows added.
Democrats offered a far different take on Pompeo's letter, which relayed that five State Department employees would not show up this week for depositions requested by House committees.
"If @realDonaldTrump and @SecPompeo were innocent, they would provide witnesses and information for the American people and Congress to clear their names," tweeted Rep. Ted Lieu (D-Calif.). "Instead, they are bullying the American people by obstructing Congress and hiding information."
12:15 p.m.: RNC chairwoman accuses Democrats of a coup d'etat
Republican National Committee Chairwoman Ronna McDaniel accused House Democrats of attempting a coup d'etat Tuesday.
McDaniel took to Twitter to share an opinion piece written by former House speaker Newt Gingrich in which he argued that what Democrats are doing has "nothing to do with an impeachment."
"This is a legislative coup d'etat. It is an effort by the hard left, the news media, and the deep state to destroy the president chosen by the American people," Gingrich wrote.
"I couldn't agree more!" McDaniel said in her tweet.
12:05 p.m.: The Ukraine story appears to be hurting Trump — and possibly Biden, too
The Ukraine story has spurred Democrats to announce a formal impeachment inquiry of President Trump, and with those developments has come a noted rise in support for impeaching Trump.
But there remains considerable uncertainty among the American public about the Democrats' underlying Ukraine accusations, according to a new poll. And importantly, a plurality seems to be internalizing Trump and his personal attorney Rudolph W. Giuliani's dubious claims of potential wrongdoing by Joe Biden.
The Monmouth University poll shows people broadly disapprove of Trump's July phone call with Ukrainian President Volodymyr Zelensky, on which Trump asked Ukraine to pursue two investigations that carry potential political benefits for him. Americans say 63 percent to 21 percent that it is "not appropriate" for a president to make such requests of a foreign leader.
Read more here.
— Aaron Blake
12 p.m.: Impeachment inquiry energizing Trump's online donor base
House Democrats' impeachment inquiry has generated a flurry of donations through WinRed, the new Republican donation platform designed to capitalize on Trump's fervent online donor base, officials said Tuesday.
WinRed processed more than $13.7 million in donations from more than 276,000 contributors in the six days since House Speaker Nancy Pelosi (D-Calif.) announced the impeachment inquiry, officials said Tuesday. Hundreds of thousands of dollars flowed to House GOP "nominee funds," officials said, referring to the vehicles that raise money for Republican challengers to vulnerable Democrats who support the impeachment inquiry.
"Turning major news events into big time fundraising numbers is a key goal of WinRed — and we had a super-charged example of that last week after Nancy Pelosi announced an impeachment inquiry against President Trump," WinRed President Gerrit Lansing wrote in a memo released Tuesday.
Since Pelosi's announcement, Trump and GOP campaign committees have unleashed a massive push for donations in his defense, bombarding his supporters with appeals via emails, texts, tweets and videos. Such solicitations — often capitalizing on newsworthy moments for the president — have been a mainstay of Trump's fundraising strategy and have fueled his reelection effort.
WinRed launched in June to make it easier for donors to give in smaller amounts online to multiple GOP candidates and causes, seeking to leverage Trump's appeal to such donors.
Since then, some House GOP members have resisted adopting the platform, but WinRed officials said more campaigns are coming on board. So far, 60 percent of House GOP members, 76 percent of Republican senators and 92 percent of Republican state parties have adopted the platform, they said.
— Michelle Ye Hee Lee
11:45 a.m.: Corey Lewandowski suggests he won't run for Senate so he can help Trump's reelection bid
Trump's former campaign manager and loyal ally Corey Lewandowski said "it's fair to say" his plans to run for the U.S. Senate in New Hampshire may have changed now that Trump is at the center of an impeachment investigation.
"As much as I think I would be a great fighter for the people of New Hampshire, and one U.S. senator can make a difference, it is my priority to make sure the president of the United States is reelected," Lewandowski said on the radio show, "New Hampshire Today with Jack Heath."
Lewandowski had pushed back against rumors last week that he'd been tapped to run an impeachment war room at the White House, but said he'd do whatever the president needed.
11:20 a.m.: Sen. Grassley says whistleblower deserves 'to be heard out and protected,' but condemns 'uninformed speculation'
Sen. Charles E. Grassley (R-Iowa), who chairs and co-founded the Senate Whistleblower Protection caucus, released a statement defending the whistleblower's actions, but reserved judgment about the facts of the intelligence official's complaint.
"This person appears to have followed the whistleblower protection laws and ought to be heard out and protected," Grassley said. "We should always work to respect whistleblowers' requests for confidentiality."
But Grassley also said no one should pass judgment before hearing directly from the whistleblower. "Uninformed speculation wielded by politicians or media commentators as a partisan weapon is counterproductive and doesn't serve the country," the senator said.
Grassley made sure to distinguish, however, his support for hearing out the whistleblower with the House's impeachment inquiry, saying that "inquiries that put impeachment first and facts last don't weigh very credibly."
11 a.m.: Trump takes fresh aim at Schiff, says he should be 'brought up on charges'
Trump returned to Twitter late Tuesday morning to take fresh aim at Schiff, suggesting that the House Intelligence Committee chairman should be "brought up on charges" for a statement he made during a hearing last week.
"Why isn't Congressman Adam Schiff being brought up on charges for fraudulently making up a statement and reading it to Congress as if this statement, which was very dishonest and bad for me, was directly made by the President of the United States?" Trump tweeted. "This should never be allowed!"
In his statement, Schiff offered an embellished re-creation of Trump's call with Zelensky. Schiff later said that it was meant as parody, which he said should have been obvious to Trump.
10:30 a.m.: Pompeo says State Dept. officials won't show up for scheduled impeachment depositions this week
The secretary of state fired a broadside at House Democrats on Tuesday, saying State Department officials scheduled to appear this week before committees conducting the impeachment inquiry would not be made available until "we obtain further clarity on these matters."
The refusal, in a letter to Engel, described the demand for depositions by five officials who played a role in U.S. relations with Ukraine as "an attempt to intimidate, bully, and treat improperly, the distinguished professionals of the Department of State."
The statements came as Pompeo's role in the Ukraine investigation broadened with reports that he was a participant in the July 25 call by Trump to the Ukrainian president.
Before that report, first published by The Wall Street Journal, Pompeo had brushed off questions about the incident, saying last week that he had not yet read the transcript of the telephone call released by the White House, or the whistleblower complaint that it sparked.
The committee, along with the House Intelligence and Oversight panels, had requested the five officials to appear for depositions this week and next, to begin Wednesday with Marie Yovanovitch, who was recalled by Pompeo as ambassador to Ukraine in May, before the end of her tour.
Read more here.
— Karen DeYoung
10:25 a.m.: Trump's tweeted electoral map included several errors
A 2016 electoral map tweeted by Trump on Tuesday morning included several errors, depicting some counties that Democrat Hillary Clinton carried as counties that he won.
The map was intended to show the breadth of Trump's support as Democrats move toward impeachment.
Read more from an analysis by The Post's Philip Bump here.
9:20 a.m.: Trump calls for learning 'everything about' the whistleblower
Trump on Tuesday questioned why he is not "entitled to interview & learn everything about" a whistleblower who filed a complaint against him and whose identity is protected by federal statute.
"So if the so-called 'Whistleblower' has all second hand information, and almost everything he has said about my 'perfect' call with the Ukrainian President is wrong (much to the embarrassment of Pelosi & Schiff), why aren't we entitled to interview & learn everything about the Whistleblower, and also the person who gave all of the false information to him," Trump tweeted. "This is simply about a phone conversation that could not have been nicer, warmer, or better."
Andrew P. Bakaj, a lawyer representing the whistleblower, sent a letter on Saturday to acting director of national intelligence Joseph Maguire expressing fears for his client's safety.
In the letter, Bakaj cited Trump's remarks last week in which he said whoever gave the whistleblower the information about the call was "close to a spy" and alluded to the death penalty. Bakaj also said that "certain individuals" have issued a $50,000 "bounty" for "any information" relating to his client's identity.
Trump's contention that the whistleblower has only secondhand information is at odds with a statement released by Intelligence Community Inspector General Michael Atkinson.
9 a.m.: Hillary Clinton calls Trump's efforts to out the whistleblower 'really dangerous'
Hillary Clinton, the Democratic presidential nominee defeated by Trump in 2016, warned Tuesday that his efforts to unmask the whistleblower are "really dangerous."
"From everything we know, and we don't know much, this is an experienced person who saw things that bothered him," Clinton said during an appearance on ABC's "Good Morning America." "That's what the whole whistleblower statute is for, and it's to protect their identity."
On Monday, Trump told reporters that he was trying to "find out about" the anonymous U.S. intelligence official who filed the complaint. In tweets Sunday night, Trump said he wants to meet his "accuser" and warned of "Big Consequences."
During her ABC appearance, Clinton said she is confident Democrats will not overplay their hand in the impeachment inquiry.
"I think the evidence concerning Ukraine is so dramatic and irrefutable, because it came right out of the White House," she said. "I know that they will do a thoughtful, thorough job. Nobody should jump to any conclusions."
Clinton is on a tour to promote "The Book of Gutsy Women," which she wrote with her daughter, Chelsea.
8:35 a.m.: Giuliani seeks to put focus on Hunter Biden's business dealings
Giuliani sought Monday to focus attention on the former vice president and his son, Hunter Biden, complaining that the media has not adequately covered the latter's business dealings in Ukraine and China.
"How corrupted is most of our media if they can't figure out that Ukraine and China was paying for Biden's office, not his struggling son's nonexistent expertise," Giuliani said. "Every time we lecture them on corruption, they laugh and say you're no different."
Hunter Biden served for nearly five years on the board of Burisma, Ukraine's largest private gas company, whose owner came under scrutiny by Ukrainian prosecutors for possible abuse of power and unlawful enrichment.
Hunter Biden was not accused of any wrongdoing in the investigation. As vice president, Joe Biden pressured Ukraine to fire the top prosecutor, Viktor Shokin, who Joe Biden and other Western officials said was not sufficiently pursuing corruption cases. At the time, the investigation into Burisma was dormant, according to former Ukrainian and U.S. officials.
Hunter Biden also traveled with his father on Air Force Two to China during his tenure as vice president.
Twelve days later, Hunter Biden joined the board of a just-formed investment advisory firm, known as BHR, whose partners included Chinese entities.
7:15 a.m.: Trump: 'Try to impeach this'
Trump pinned to the top of his Twitter feed a largely red 2016 election map with the words "Try to impeach this" emblazoned across it.
The map appears to depict counties Trump won in red and those carried by Democrat Hillary Clinton in blue. Because Clinton, for the most part, won more densely populated parts of the country, many of them on the coasts, the map appears largely red even though Clinton received nearly 3 million more votes than Trump, who prevailed in the electoral college.
7:10 a.m.: Trump once again claims his call was 'PERFECT'
Trump on Tuesday resurrected familiar defenses of his call with Zelensky, calling it "PERFECT" in one of a spate of tweets on the controversy and claiming he is the target of a "HOAX!"
Trump also took fresh aim at Schiff, whom Trump suggested on Monday should be arrested for treason.
"The congratulatory phone call with the Ukrainian President was PERFECT, unless you heard Liddle' Adam Schiff's fraudulently made up version of the call," Trump tweeted. "This is just another Fake News Media, together with their partner, the Democrat Party, HOAX!"
In a statement at a hearing last week, Schiff offered an embellished recreation of Trump's call with Zelensky. Schiff later said that it was meant as parody, which he said should have been obvious to Trump.
During morning tweets, Trump also shared television clips of several allies defending him, including House Minority Whip Steve Scalise (R-La.).
In a tweet that included a clip of his appearance Monday night on Fox News, Scalise wrote: "Radicals & socialists have taken over the Democrat Party. They're calling all the shots now. Just last week, they pressured Pelosi into launching a baseless impeachment inquiry based on false rumors & left-wing rage. This is a witch hunt of @realDonaldTrump, plain & simple."
During his Tuesday morning tweets, Trump also touched on a few other topics, including a viral video of an airport cart spinning wildly on the tarmac at Chicago's O'Hare International. In another tweet, he congratulated China on 70 years of Communist rule.
6:30 a.m.: Kamala Harris calls on Twitter to suspend Trump's account
Sen. Kamala D. Harris (D-Calif.) on Monday night called for Twitter to suspend Trump's account as he continued his attacks on the whistleblower and told reporters he was trying to "find out about" the anonymous U.S. intelligence official who filed the complaint.
"The president's tweets and his behavior about this are just further evidence of the fact that he uses his power in a way that is designed to beat people down instead of lift people up," Harris, a 2020 Democratic White House hopeful, said during a CNN appearance. "If you look at what he's been tweeting today directed at the whistleblower, I frankly think that based on this and all we've seen before, including attacking members of Congress, that his Twitter account should be suspended."
In his tweets Monday, Trump called the complaint lodged by a whistleblower "a fraud." In tweets Sunday night, Trump said he wants to meet his "accuser" and warned of "Big Consequences."
6 a.m.: Inspector general pushes back on claims that whistleblower relied solely on hearsay
Atkinson, the intelligence community inspector general, pushed back Monday on repeated claims by Trump and Republican allies that the whistleblower lacked firsthand knowledge of events and based his claim only on "hearsay."
In a lengthy statement, Atkinson, a Trump appointee, said it was not true that he found the whistleblower could "provide nothing more than secondhand or unsubstantiated assertions."
"Although the Complainant's Letter acknowledged that the Complainant was not a direct witness to the President's July 25, 2019, telephone call with the Ukrainian President, the Inspector General of the Intelligence Community determined that other information obtained during the ICIG's preliminary review supported the Complainant's allegations," the statement said.
Amid tweets on Monday, Trump promoted the false narrative that has been spread by Republicans in recent days that the intelligence community recently eliminated a requirement that whistleblowers provide direct, firsthand knowledge of alleged wrongdoings. The statute has never required that standard — a point Atkinson also made in his statement.
john.wagner@washpost.com
colby.itkowitz@washpost.com
felicia.sonmez@washpost.com