Lobbyist Linked to EPA Chief Pruitt Quits As Firm Admits Contact

Bloomberg
4/21/2018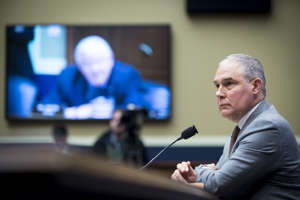 © Pete Marovich/Getty Images Environmental Protection Agency Administrator Scott Pruitt testifies before a House panel on December 7, 2017. The lobbyist whose wife rented a bedroom in a Capitol Hill condo to Environmental Protection Agency Administrator Scott Pruitt has left his job as chairman of Williams & Jensen.
J. Steven Hart's departure was announced the same day the law and lobbying firm filed a form disclosing that he had at least one lobbying contact with the EPA this year after saying earlier he hadn't had business before the agency.
Williams & Jensen said in an emailed statement that Hart "informed the firm of his decision to resign" on Friday. "We are grateful to Steve for his 35 years of service and we wish him and his family well in all of their future endeavors," the lobbying firm said. Hart's biography page has been removed from the firm's website.
"Considering the last couple of weeks, I think it is easier on my family and the firm to expedite my departure," Hart told colleagues in an email obtained by Bloomberg News.
It's the latest sign that fallout from Pruitt's condo controversy is continuing to spread — even if it hasn't led so far to serious repercussions for the EPA chief, who was backed by President Donald Trump on Twitter earlier this month.
Fundraising Events
On Thursday, a watchdog group filed a complaint with the Federal Election Commission alleging that a campaign committee for Senator Mike Crapo, an Idaho Republican, improperly used the same condo to host political fundraising events, without paying its owner to use the space. And earlier this month, the District of Columbia cited the condo's co-owner, Vicki Hart, for operating a rental without the required license.
Read More: Lobbyist Tied to Pruitt's Condo Had Clients Facing EPA
Pruitt has come under fire for renting one of the two bedrooms in the unit, a few blocks from the U.S. Capitol, under unusually favorable terms allowing him to pay $50 per day to lease the space — but only on the nights he stayed there.
In all, Pruitt paid $6,100 to use the room for roughly six months last year, according to canceled checks with irregular dates, sometimes coming six weeks apart. Pruitt was required to leave his bedroom door unlocked and was barred from using common areas, which continued to be a venue for dinner parties and meetings during his stay.
Smithfield Foods
The controversy encircled Steven Hart too, drawing attention to his clients with business before the EPA. Hart said he didn't personally lobby the EPA in 2017 or this year, but the newly filed disclosure appears to contradict that claim, and several of his corporate clients had matters pending before the agency.
That includes pork processor Smithfield Foods Inc., a subsidiary of WH Group Ltd., China's largest meat producer. A lobbying disclosure filed by Williams & Jensen on Friday shows Hart had some lobbying contact with the EPA on behalf of the company during the first three months of this year. The form doesn't specify the type or extent of the contact — just that it involved "issues relating to support for EPA Chesapeake Bay programs."
Virginia-based Smithfield was fined $12.6 million for dumping hog waste into Chesapeake Bay in 1997, in what was the largest water pollution fine ever at the time. The EPA works with federal and state agencies and non-government programs to coordinate restoration of the Chesapeake Bay and has set pollution limits to keep too much nitrogen, phosphorus and other materials from running off into the bay.
Disclosure Forms
In an emailed statement, Smithfield said lobbying by Williams & Jensen wasn't undertaken "at the direction or on behalf" of the company but instead at the request of Dennis Treacy, a former executive and current board member of the Smithfield Foundation, in his personal capacity. The foundation is the company's nonprofit philanthropic wing.
"An independent review of the firm's lobbying activity in advance of the quarterly filing deadline concluded that Mr. Hart had lobbying contact with the Environmental Protection Agency in the first quarter of 2018," Williams & Jensen said in an emailed statement. "The firm has filed the requisite disclosure forms required by law accordingly."
The EPA didn't immediately provide a comment.
Hart was defiant in Friday's email: "As you know, these days I am no more an energy lobbyist than I am an astronaut. But why let the facts get in the way of a good story?"
Hart said he began transitioning to honorary chairman of Williams & Jensen after giving up his chief executive officer title two years ago, was planning to retire from the firm in November, and had begun negotiating a severance agreement earlier this year.
Hart told his colleagues he was looking forward to developing an independent legal practice and doing some strategic business counseling for a few clients.