© Mary F. Calvert for The New York Times Robert S. Mueller III at the Capitol in June. WASHINGTON — Robert S. Mueller III, the special counsel, has asked the White House for documents about some of President Trump's most scrutinized actions since taking office, including the firing of his national security adviser and F.B.I. director, according to White House officials.
Mr. Mueller is also interested in an Oval Office meeting Mr. Trump had with Russian officials in which he said the dismissal of the F.B.I. director had relieved "great pressure" on him.
Sign Up For the Morning Briefing Newsletter
The document requests provide the most details to date about the breadth of Mr. Mueller's investigation, and show that several aspects of his inquiry are focused squarely on Mr. Trump's behavior in the White House.
In recent weeks, Mr. Mueller's office sent a document to the White House that detailed 13 different areas that investigators want more information about. Since then, administration lawyers have been scouring White House emails and asking officials whether they have other documents or notes that may pertain to Mr. Mueller's requests.
One of the requests is about a meeting Mr. Trump had in May with Russian officials in the Oval Office the day after James B. Comey, the F.B. I director, was fired. That day, Mr. Trump met with the Russian foreign minister, Sergey V. Lavrov, and the Russian ambassador to the United States, Sergey I. Kislyak, along with other Russian officials. The New York Times reported that in the meeting Mr. Trump said that firing Mr. Comey relieved "great pressure" on him.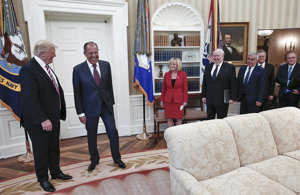 © Russian Foreign Ministry Photo via AP U.S. President Donald Trump meets with Russian Foreign Minister Sergey Lavrov, second left, at the White House in Washington, Wednesday, May 10, 2017. Mr. Mueller has also requested documents about the circumstances of the firing of Michael T. Flynn, who was Mr. Trump's first national security adviser. Additionally, the special counsel has asked for documents about how the White House responded to questions from The Times about a June 2016 meeting at Trump Tower. That meeting was set up by Donald Trump Jr., the president's eldest son, to get derogatory information from Russians about Hillary Clinton.