Obamacare replacement bill appears dead on arrival

Tribune Washington Bureau
3/8/2017
WASHINGTON — Repealing Obamacare was Republicans' biggest campaign pledge for years, but the long-awaited bill to repeal the landmark legislation faces fierce intraparty opposition from conservatives who say it doesn't go far enough, and they have the votes to stop it in the Senate.
The Republican leadership's plan was to fast-track their just-released proposal to repeal Obamacare. Republican leaders want to vote on it in the House of Representatives, send it to the Senate and put it on President Donald Trump's desk within months.
It could be their own party that stops it from happening.
In the 24 hours since an Obamacare replacement bill was announced, a slew of congressional Republicans have voiced their opposition to the plan, referring to it as "Obamacare Lite" or "Obamacare 2.0."
House Speaker Paul Ryan, R-Wis., said his caucus would support the legislation even if a few members dissented.
"We'll have 218 (votes) when this comes to the floor, I can guarantee it," Ryan said.
Passing the Obamacare repeal bill is a more perilous matter in the Senate. The GOP loses its majority if three Republican senators vote against it combined with unified Democratic opposition.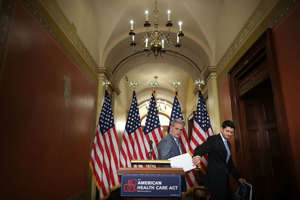 So far, two conservative Republicans, Sens. Mike Lee of Utah and Rand Paul of Kentucky, have argued the bill doesn't go far enough. Texas Sen. Ted Cruz, an ally of Lee's, was noncommittal when asked whether he would vote no on the bill in its current state.
"This is a step in the wrong direction, a missed opportunity," Lee said. "This is not the Obamacare repeal bill we've been waiting for. … We don't know how many people would use this new tax credit, we don't know how much it will cost and we don't know if this bill will make health care more affordable for Americans."
Four moderate Republican senators also publicly voiced concerns Monday that the House plan does not "provide stability" for families in Medicaid expansion programs, which would be phased out under the plan. Sens. Cory Gardner of Colorado, Lisa Murkowski of Alaska, Rob Portman of Ohio and Shelley Moore Capito of West Virginia sent a letter to Senate Majority Leader Mitch McConnell, R-Ky., on Monday outlining their concerns.
A variety of powerful conservative advocacy groups, including Heritage Action and FreedomWorks, blasted the bill and targeted the moderate senators for what they see as a hypocritical stance on repealing Obamacare.
"They supported a strong repeal bill when they knew President Obama would never sign it, and now they won't support the same language because President Trump might sign it," FreedomWorks director of campaigns Noah Wall said in a statement.
In a bid to dare Senate Republicans to vote against the bill, which has earned praise from Trump and was a key campaign promise for Republicans during the November elections, Senate leaders said they would put the House bill up for a vote immediately instead of sending it through committees.
"My guess is once it comes out of the House it will come directly to the Senate floor," said Senate Majority Whip John Cornyn, R-Texas. "There's already been a lot of consultation with Sen. Hatch, Sen. Alexander, those committees, to get us here in the first place."
Despite the opposition, McConnell expects the bill to move quickly.
"We hope and expect to get that from the House sometime in the next few weeks," McConnell said. "If so, it will be on the agenda in the Senate before the April recess."
McConnell also said he expects the Congressional Budget Office, a nonpartisan arm of Congress that grades the fiscal impact of legislation, to release a score on the bill later this week before the House votes on it.
The CBO did not immediately respond to a request for a timeline on scoring the bill.
But before the bill makes it to the Senate, it must pass the House. If 22 Republicans buck party leadership combined with unified Democratic opposition, the bill will fail.

One House Republican, Rep. Dave Brat of Virginia, is on record saying he will not vote for the bill.
"I can't support it because if you look at what went wrong with Obamacare, ACA, it was a federally run program that's now in a death spiral, and anyone could see it," Brat told NPR on Tuesday morning. "The last thing we need to is replicate a system that doesn't work. It's going to be a federally run system; it's going to create a new entitlement program. It keeps too many of the bad pieces, which will collide with each other and it will collapse."
But Trump wants to pass something quickly. The president summoned Republican leaders to the White House and told them, "There's going to be no slowing down, no waiting and no more excuses by anybody."
Reps. Kevin Brady of Texas and Greg Walden of Oregon, chairmen of the committees where the bill will be marked up Wednesday, repeatedly invoked Trump's support for the legislation during a news conference Monday, signaling that a no vote will be a vote against the president's wishes.
Meanwhile, Vice President Mike Pence was dispatched to the Capitol to support the bill.
But Sen. Paul of Kentucky argued that conservative factions in Congress have the votes to derail the bill.
"The House Freedom Caucus has enormous power," Paul said. "So do the conservatives in the Senate if they stay together."
———
(David Lightman and Curtis Tate contributed to this report.)