Ocasio-Cortez Praises New Zealand's Weapons Ban

Newsweek
3/21/2019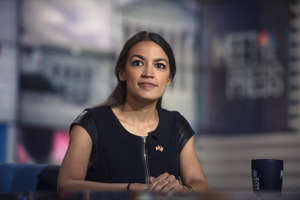 Representative Alexandria Ocasio-Cortez praised the leadership shown by New Zealand Prime Minister Jacinda Ardern on the issue of gun control in the wake of the deadly Christchurch mosque shootings by a white supremacist.
Ardern announced that, as a result of the far-right terror attack which left 50 people dead and dozens more injured, some critically, New Zealand will ban a swathe of what she called "military-style" weapons and parts that allow other guns to be converted.
Ocasio-Cortez, a New York Democrat and rising star in the party, drew a comparison with the lack of action on gun control in America after mass shootings, such as the Sandy Hook Elementary School Massacre which killed 26, of which there is an epidemic in the country.
"Sandy Hook happened 6 years ago and we can't even get the Senate to hold a vote on universal background checks w/ #HR8," Ocasio-Cortez tweeted, referencing a House bill that would require background checks on all gun sales, including private transactions.
"Christchurch happened, and within days New Zealand acted to get weapons of war out of the consumer market. This is what leadership looks like."
Last Friday, Brenton Tarrant, 28, allegedly streamed live to his Facebook page as he entered two different mosques in the city of Christchurch while heavily armed and began shooting at Muslim worshippers, killing men, women and children indiscriminately.
Tarrant released a manifesto alongside his attack detailing his white supremacist beliefs, his hatred of Muslims, and his desire to see more acts of violence. He referred to immigration in white-majority countries as an invasion. Tarrant is in custody awaiting charges.
"Today I am announcing that New Zealand will ban all military-style semi-automatic weapons," Ardern said at a news conference on Thursday.
"We will also ban all assault rifles. We will ban all high-capacity magazines. We will ban all parts with the ability to convert semi-automatic or any other type of firearm into a military-style semi-automatic weapon. We will ban parts that cause a firearm to generate semi-automatic, automatic, or close to automatic gunfire.
"In short, every semi-automatic weapon used in the terrorist attack on Friday will be banned in this country," Ardern said.
Despite calls by campaigners and multiple mass shootings, a similar move is unlikely in America, where gun control is a fiercely divisive issue because the right to bear arms is enshrined in the constitution under the second amendment.
In February, the House passed H.R.8, called the Bipartisan Background Checks Act of 2019, by 240 to 190. The bill, which is now with the Republican-controlled Senate where it will likely die, would require a background check for every gun sale.
Licensed gun dealers are currently required by law to run background checks on people buying weapons. But private sellers are not obliged to run any checks, which the new bill requires.