Rod Rosenstein, deputy attorney general, sees no reason to dismiss Robert Mueller
USA TODAY
12/13/2017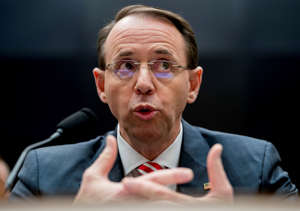 WASHINGTON — Deputy Attorney General Rod Rosenstein told a House committee Wednesday that he saw no reason to dismiss Robert Mueller – and that the special counsel overseeing the Russia investigation took the appropriate action to remove a senior FBI agent from his team last summer after exchanging overtly political text messages with a colleague.
Rosenstein's appearance comes just hours after the Justice Department forwarded Congress hundreds of text messages linked to a top FBI counterintelligence agent Peter Strzok, who in long-running communications with FBI lawyer Lisa Page, variously referred to Trump as an "idiot" and a "loathsome human," while expressing a clear preference for Democratic nominee Hillary Clinton.
The contacts covered a period in which Strzok also helped oversee the FBI's investigation into Hillary Clinton's use of a private email server.
Rosenstein further defended Mueller by saying that he was exercising appropriate oversight over his probe.
"I know what he is doing," Rosenstein said of Mueller. "I am not aware of any impropriety."
Judiciary Chairman Bob Goodlatte of Virginia seized on the Strzok-Page disclosures to launch a broadside on the Mueller investigation, saying that the communications were "deeply troubling" and threatened the impartiality of the special counsel's inquiry and Justice Department operations.
Goodlatte said that Mueller's inquiry "must not be tainted" by the "political biases" of the two FBI officials.
"The Department of Justice's reputation as an impartial arbiter of justice has been called into question," the chairman said.
New York Rep. Jerrold Nadler, the panel's acting ranking Democrat, shot back that Strzok and Page were free to express their private opinions and had not expressed anything about Trump "that the majority of Americans were thinking at the same time."
Nadler, who is serving as the acting ranking member in the wake of Michigan Rep. John Conyers' resignation, said he understands Republicans' "desire to change the subject" after the recent high-profile indictments of Trump campaign advisers.
"I understand the instinct to want to give cover to the president," Nadler said to his GOP colleagues.
Rosenstein said that he had discussed issues related to political bias with Mueller, but the deputy attorney general believed that Mueller was "ensuring" that such personal views were not influencing the investigation.
"If I thought he (Mueller) was doing something inappropriate, I would take action," Rosenstein said.
Asked separately whether Mueller had requested permission from Rosenstein, who oversees special counsel operations, to expand the scope of the investigation, the deputy attorney general said he had helped "clarify" the outline of the inquiry but he declined to immediately characterize it as an expansion. Rosenstein did, however, indicate that Mueller's team had authority to review possible obstruction, involving any administration official, including the president.
The president's private lawyers have recently asserted that the president, as the chief executive, is not subject to possible obstruction charges.
"I can assure you that the special counsel is conducting himself consistently with our understanding of the scope of the investigation," Rosenstein said, before offering a stirring defense of the special counsel's credibility.
"Nobody has communicated to me the desire to remove Robert Mueller," Rosenstein said. "I think it would be very difficult to find anybody better qualified for this job...I believe that, based upon his reputation, his service, his patriotism, his experience with the department and the FBI, he was an ideal choice for this task."
The oversight hearing comes as Mueller's investigation has begun to get results as he and his team of prosecutors have probed Russian interference in the 2016 presidential election and possible collusion between the Trump campaign and the Kremlin.
Trump's former national security adviser Michael Flynn and a former campaign adviser, George Papadopoulos, have both pleaded guilty to lying to the FBI about their communications with Russian officials. Former campaign chairman Paul Manafort and campaign aide Rick Gates have been indicted — and pleaded not guilty — on charges of money laundering and other crimes.
Flynn's guilty plea on Dec. 1 brought the criminal investigation into Trump's inner circle for the first time.
But just one day later, news broke that Strzok was removed from Mueller's team last summer after the inspector general discovered the anti-Trump texts to Page. Strzok has since been reassigned to the agency's human resources department.
Trump and his allies in Congress have jumped on the Strzok news as evidence that the Russia probe is biased.
Rep. Matt Gaetz, R-Fla, who serves on the Judiciary Committee and will be questioning Rosenstein, tweeted Tuesday: "There is an intractable bias & prejudice that infects Mueller's investigation."
There is an intractable bias & prejudice that infects Mueller's investigation of @realDonaldTrump & his team. Look no further than Strzok, he was central to clearing @HillaryClinton by changing the information in exoneration statement from grossly negligent to extremely careless. pic.twitter.com/P0cOaygneR

— Rep. Matt Gaetz (@RepMattGaetz) December 12, 2017
Nadler said he believes the attacks on the FBI and on Mueller's investigation will escalate in the days ahead.
"I predict that these attacks on the FBI will grow louder and more brazen as the special counsel does his work, and the walls close in around the president, and evidence of his obstruction and other misdeeds becomes more apparent," Nadler said in a recent statement.
Rosenstein has previously expressed confidence in Mueller and his investigation.
"Yes," Rosenstein said last week when asked by a reporter for a local NBC affiliate in Washington, D.C., whether he was satisfied with the job Mueller has been doing so far.
"When we conduct criminal investigations...we don't talk about the investigation while it's ongoing," he said. "So what the American people will see is only if and when a case is charged. And there are several cases that have been charged to date."
Rosenstein appointed Mueller as special counsel after Attorney General Jeff Sessions recused himself because he served as an adviser to Trump's campaign. Sessions also was under pressure by Congress to recuse himself after he acknowledged that he was wrong when he told the Senate Judiciary Committee at his confirmation hearing in January that he never met with Russian officials during the campaign.
Just last week, Rosenstein offered a full-throated defense of the Justice Department just days after Trump openly questioned the agency's credibility for pursuing Flynn's prosecution while recommending last year not to bring charges against Clinton.
"In this department, Justice is our name. And justice is our mission," Rosenstein said in prepared remarks at an awards ceremony for the department's Criminal Division. "Justice is not just about winning a particular case, or sending a particular person to prison. It is about a fair and impartial process."
The remarks were a clear counterweight to a flurry of Trump's tweets days before in which the president raised the prospect that the criminal justice system was "rigged" and described the FBI's reputation as "in Tatters - worst in History!"
After years of Comey, with the phony and dishonest Clinton investigation (and more), running the FBI, its reputation is in Tatters - worst in History! But fear not, we will bring it back to greatness.

— Donald J. Trump (@realDonaldTrump) December 3, 2017
Trump's missives came shortly after revelations that Flynn was charged with lying to the FBI about his contacts with Russian ambassador Sergey Kislyak. Flynn agreed to plead guilty as part of a deal in which he also pledged to cooperate in Mueller's continuing investigation.
The Rosenstein hearing comes just one week after FBI Director Christopher Wray appeared before the committee and fiercely defended his agency.
"It is the honor of my life to lead the FBI," Wray told the committee. "There is no finer institution than the FBI and no finer people who work there."