Scaramucci: Trump Should Have Been 'Much Harsher' On White Supremacy
Talking Points Memo
5 days ago
Video by TODAY
Former White House communications director Anthony Scaramucci on Sunday said President Donald Trump should have been "much harsher" in condemning white supremacy after clashes at a Charlottesville rally left one person dead and dozens injured.
"I think he needed to be much harsher as it related to the white supremacists and the nature of that," Scaramucci said on ABC News' "This Week."
Violence broke out Saturday at a white supremacist rally in Charlottesville, Virginia. One woman died after a car rammed into a crowd of protesters and dozens of people were injured; the driver was charged with second-degree murder and other counts.
Trump declined to condemn white supremacy in a series of tweets where he called the violence "sad!" and condemned "all that hate stands for." In remarks later Saturday afternoon, he called the clashes an "egregious display of hatred, bigotry and violence on many sides."
Scaramucci said as White House communications director he "wouldn't have recommended" the statement Trump gave, and applauded National Security Adviser H.R. McMaster's characterization of the violence as terrorism.
"I applaud Gen. McMaster for calling it out for what it is," he said. "Whether it's domestic or international terrorism, with the moral authority of the presidency, you have to call that stuff out."
Scaramucci wouldn't have recommended Trump Charlottesville statement, "He needed to be much harsher as it related to white supremacists." pic.twitter.com/l5cbwUF63c

— This Week (@ThisWeekABC) August 13, 2017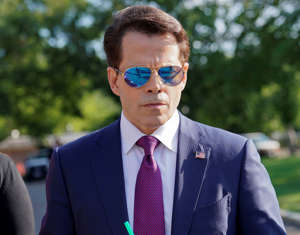 This article was written by Esme Cribb from Talking Points Memo and was legally licensed through the NewsCred publisher network. Please direct all licensing questions to legal@newscred.com.