Senate poised to confirm Trump judicial nominee labeled 'not qualified'

The Hill
12/12/2017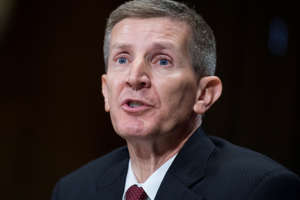 © Tom Williams/CQ Roll Call Leonard Steven Grasz, nominee to be U.S. circuit judge for the Eighth Circuit, testifies during a Senate Judiciary Committee nomination hearing in Dirksen Building on November 1, 2017. The Senate is poised to confirm a judicial pick rated "not qualified" by the American Bar Association.
Senators voted 48-47 on Monday night to end debate on Leonard Steven Grasz's nomination to be a circuit judge for the 8th Circuit Court of Appeals.
The vote was held open for roughly an hour and a half as Republicans tried to round up missing members in order to lock down the simple majority needed to clear the procedural hurdle.
Sen. John Hoeven (R-N.D.) arrived just after 7 p.m. to give Republicans their 48th vote, avoiding a tie.
The move sets up a final vote on his nomination as late as Wednesday morning, if Democrats drag out all the debate time.
Grasz was the second of Trump's judicial nominees to receive a "not qualified" rating from the ABA.
"As you know, the Standing Committee confines its evaluation to the qualities of integrity, professional competence, and judicial temperament," the outside group wrote to Sens. Chuck Grassley (R-Iowa) and Dianne Feinstein (D-Calif.), the top members of the Judiciary Committee. 
The Trump administration notified the ABA in March that it was ending its long-standing practice of inviting its independent Standing Committee on the Federal Judiciary to review the professional qualifications of prospective nominees to the lower federal courts on a pre-nomination basis.
Senate Minority Leader Charles Schumer (D-N.Y.) ripped Republicans ahead of Monday evening's procedural vote, arguing they are dismissing the ABA for their own political gain.
"This is indicative of what has become part of the Republican playbook, the playbook that Donald Trump specializes in and unfortunately my colleagues are joining right in. If you don't like the message, shoot the messenger," he added.
The Senate's vote comes after Grasz's was confirmed by the Judiciary Committee last week, despite Democratic objections that Republicans were rushing Trump's judicial nominees.
But Republicans are expected to line up behind Grasz's nomination during a final confirmation vote later this week.
Senate Majority Leader Mitch McConnell (R-Ky.) praised him ahead of the procedural maneuver, as a "talented individual with experience in both private practice and public service."
Grasz, a senior counsel at a firm in Omaha, previously served as the chief deputy attorney general for the state of Nebraska.
]]>