The Latest: 5th GOP senator opposes debate on health bill

Associated Press
6/27/2017
WASHINGTON — The Latest on the Republican legislation overhauling the Obama health care law (all times EDT):
11:20 a.m.
Utah Sen. Mike Lee has become the fifth Republican senator to oppose starting debate on the GOP health care bill. That deals another blow to party leaders hoping to push the top-priority measure through the Senate this week.
Lee was among four conservative senators who announced last week they oppose the bill's current version. Lee spokesman Conn Carroll said Tuesday that the lawmaker will not vote for a crucial procedural motion allowing the Senate to begin debate on the legislation, unless it's changed.
Senate Majority Leader Mitch McConnell can lose the votes of only two of the 52 Republican senators to begin debate and ultimately pass the bill. All Democrats oppose it.
Lee has favored a fuller repeal of President Barack Obama's health care law than the current GOP bill.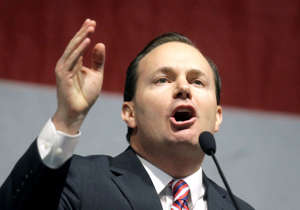 __
10:25 a.m.
House Speaker Paul Ryan says he has faith in Senate Majority Leader Mitch McConnell's ability to round up the votes for the Republican health care bill despite growing opposition in the Senate.
Ryan told reporters on Tuesday: "I would not bet against Mitch McConnell."
The Wisconsin Republican said he has every expectation that the Senate will move ahead on the bill, which the Congressional Budget Office says would kick 22 million off the insurance rolls. The bill would cut taxes, reduce the deficit and phase out the Medicaid expansion implemented by Barack Obama's health law.
Ryan said every Republican senator campaigned on repealing and replacing Obama's law.
The speaker said House members are waiting to see what happens in the Senate. The House could try to vote after the Senate to push the bill and get it to President Donald Trump before the weeklong July 4th recess.
__
7:45 a.m.
Senate Republican leaders are scrambling to rescue their health care bill. It's in trouble as opposition from rebellious Republicans grows.
The defections came as Congress' nonpartisan budget referee said the measure would leave 22 million more people uninsured by 2026 than President Barack Obama's law, which Republicans are trying to replace.
Majority Leader Mitch McConnell, R-Ky., was hoping to staunch his party's rebellion, a day after the Congressional Budget Office released its report. He's been aiming at winning Senate passage this week, before a weeklong July 4 recess that leaders worry opponents will use to weaken support for the legislation.