Threats are preventing Rep. Frederica Wilson from voting in Washington
Tribune News Service
10/26/2017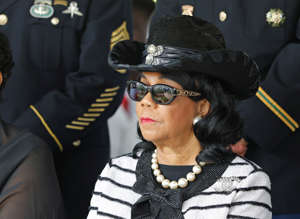 © REUTERS/Joe Skipper U.S. Rep. Frederica Wilson (D-FL) attends the graveside service for U.S. Army Sergeant La David Johnson, who was among four special forces soldiers killed in Niger, in Hollywood, Florida, October 21, 2017. WASHINGTON - Congressional Democrats celebrated Rep. Frederica Wilson on Wednesday by wearing stickers adorned with a red cowboy hat and posing for a group picture on the steps of the Capitol.
But one notable person was missing: Wilson herself.
A source close to Wilson confirmed that the Florida Democrat was not in Washington this week due to ongoing threats against her after she criticized President Donald Trump's handling of a conversation with the family of Sgt. La David Johnson, who was killed during an Oct. 4 ambush in Niger.
Congressional vote tallies show that Wilson last voted Oct. 12, before the House adjourned for a weeklong break. She has missed 19 votes between Monday and Wednesday this week.
"Nothing else would keep her from voting," the source said.
Wilson did not respond to a request for comment.
"She's home," said Rep. Alcee Hastings, a Florida Democrat. "I have not spoken with her about it, but I've heard that she's received substantial death threats and I think she is doing everything she can to ratchet down and let some of us, including me, take over."
Hastings said she expected Wilson to return next week.
One racist threat against Wilson that surfaced on Facebook by a Chicago-area man is being investigated by police.
"Need ten good men to help carry out a lynching," the post read. "Must have own horse and saddle. Rope will be provided. This congresswomen (sic) is a disgusting pig. Someone should take their boot to her face."
The source close to Wilson said that there are "some" ongoing investigations into threats on the congresswoman.
Wilson was in the national spotlight for days last week after she said Trump was disrespectful to Johnson's widow, Myeshia, by saying her husband had known what he was getting into by joining the Army, and by calling him "your guy" instead of using his name.
Trump then unloaded on Wilson on Twitter.
"The Fake News is going crazy with wacky Congresswoman Wilson(D), who was SECRETLY on a very personal call, and gave a total lie on content!" Trump tweeted.
White House chief of staff John Kelly then held a rare news conference where he spent 20 minutes criticizing Wilson without using her name and incorrectly recounting a 2015 FBI dedication ceremony speech that Wilson gave in Miramar, Fla. Kelly said Wilson took undue credit for securing federal funding for a new FBI field office, but video evidence showed that Kelly was wrong.
Kelly has yet to apologize for his remarks, and White House press secretary Sarah Huckabee Sanders said that it's "highly inappropriate" to debate Kelly, a former four-star general.
"Gen. Kelly ought to apologize to Frederica and he should encourage Donald Trump to apologize to Myeshia Johnson," Hastings said. "Will they do that? No. Because Donald Trump's habit is to double down whether he tells a damn lie or not, and he needs to stop the damn lies, not just about Frederica but about an array of individuals."
A few dozen congressional Democrats wore red Wednesday in honor of Wilson's longtime effort to bring back 113 missing Nigerian girls that were kidnapped in 2014 by the militant group Boko Haram.
And Democrats spent Wednesday sticking #IStandWithFrederica stickers onto their colleagues on the House floor.
___
(McClatchy DC staff writer William Douglas contributed.)
Visit the McClatchy Washington Bureau at www.mcclatchydc.com