Trump's Police Brutality Statement Was Just a 'Joke', Spox Says

LawNewz
7/31/2017
Video by The Wall Street Journal
President Donald Trump raised eyebrows Friday when he suggested cops get rough with suspects, but White House Press Secretary Sarah Huckabee Sanders said Monday that he shouldn't be taken literally.

"I believe he was making a joke at the time," she said at a press briefing, after a reporter asked if it was just a joke.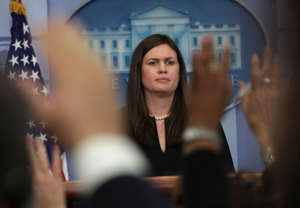 © Alex Wong/Getty Images Principal Deputy White House Press Secretary Sarah Huckabee Sanders speaks during a White House daily briefing at the James Brady Press Briefing Room of the White House July 10, 2017 in Washington, DC. Huckabee Sanders held a daily briefing to answer questions from members of the White House press corps. Trump made the statement before law enforcement officers at Suffolk County Community College, in a speech blasting other presidents for being lax on immigration policy.
"When you see these thugs being thrown into the back of a paddy wagon, you just see them thrown in. Rough," he said. "I said, 'please don't be too nice. Like when you guys put somebody in the car and you are protecting their head, the way you put your hand [over their head]. Like, don't hit their head, and they've just killed somebody, don't hit their head. I said you could take the hand away." Officers in the audience cheered.
The statement quickly got condemnation, however, even from law enforcement. Look at these subtweets from the Suffolk County Police Department
As a department, we do not and will not tolerate roughing up of prisoners.

— Suffolk County PD (@SCPDHq) July 28, 2017