Trump completes 9-hour tweet thread about Mueller investigation

Washington Examiner
4/19/2019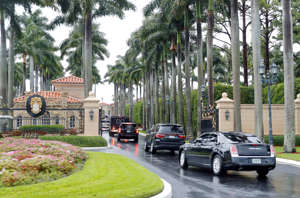 © Associated Press President Donald Trump and his accompanying motorcade vehicles arrive at Trump International Golf Club, Friday, April 19, 2019 in West Palm Beach, Fla. (AP Photo/Pablo Martinez Monsivais)
President Trump reacted to the Mueller report's publication via Twitter on Friday, calling it an "Illegally Started Hoax" and a "big, fat, waste of time."
In the three-tweet thread, which spanned more than nine hours as Trump played golf with conservative commentator and radio host Rush Limbaugh in Mar-A-Lago before completing his thoughts, Trump complained that Mueller's investigation cost $30 million and was built on a basis of "bull****" reports. He said it's time to turn the tables and signaled that officials should investigate the elements that triggered the investigation.
"Statements are made about me by certain people in the Crazy Mueller Report, in itself written by 18 Angry Democrat Trump Haters, which are fabricated & totally untrue. Watch out for people that take so-called 'notes,' when the notes never existed until needed. Because I never...."
"...agreed to testify, it was not necessary for me to respond to statements made in the "Report" about me, some of which are total bull**** & only given to make the other person look good (or me to look bad). This was an Illegally Started Hoax that never should have happened, a..."
"....big, fat, waste of time, energy and money - $30,000,000 to be exact. It is now finally time to turn the tables and bring justice to some very sick and dangerous people who have committed very serious crimes, perhaps even Spying or Treason. This should never happen again!"
Other Republican lawmakers have echoed Trump's sentiments, including Senate Judiciary Chairman Lindsey Graham, R-S.C., calling for federal authorities to investigate.
Graham said last month after Attorney General William Barr's summary of the report was sent to Congress that he would support the Judiciary Committee launching a probe into the Steele Dossier, which was one of the elements used to launch investigations into the Trump campaign.
"I'd say that's stupid. If the shoe were on the other foot, if the Republican Party had hired Steele to investigate Clinton, created a document that was a bunch of garbage against Clinton, that got a warrant against a Clinton adviser, everyone would be up in arms," Graham said.