Trump condemns violence at white nationalist rally

CBS News
6 days ago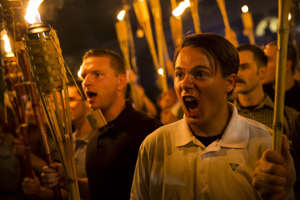 Slideshow by photo services
President Trump broke his Twitter silence on Saturday after being criticized for his silence as protests turned violent at a white nationalist rally in Charlottesville, Virginia. 

Mr. Trump tweeted that all Americans must condemn hate and violence, without mentioning the Charlottesville incident directly. The "Unite the Right" rally erupted into chaos Saturday morning, resulting in fights, tear gas and injuries and prompting Virginia's governor to declare a state of emergency. Some in the crowds featured Nazi symbols and spewed anti-Semitic rhetoric. 
We ALL must be united & condemn all that hate stands for. There is no place for this kind of violence in America. Lets come together as one!

— Donald J. Trump (@realDonaldTrump) August 12, 2017
First lady Melania Trump responded to the violence before the president did. Mr. Trump is currently on a 17-day working vacation in Bedminster, New Jersey. The "Unite the Right" rally was originally a reaction to the removal of a statue of confederate general Robert E. Lee from a public park. 
Our country encourages freedom of speech, but let's communicate w/o hate in our hearts. No good comes from violence. #Charlottesville

— Melania Trump (@FLOTUS) August 12, 2017
Speaker of the House Paul Ryan issued a statement condemning the "vile bigotry" just before noon.
The views fueling the spectacle in Charlottesville are repugnant. Let it only serve to unite Americans against this kind of vile bigotry.

— Paul Ryan (@SpeakerRyan) August 12, 2017
House Minority Leader Nancy Pelosi (D-California) called on the country to reject hate.
Our nation is defined by the march of progress. Our strength lies in our diversity. We must reject hate. #Charlottesville

— Nancy Pelosi (@NancyPelosi) August 12, 2017
But Mr. Trump's delayed response was quickly noticed by Democrats in Congress.
"Silence speaks loudly," tweeted Rep. Mike Quigley (D-Illinois).
Silence speaks loudly. @realDonaldTrump must denounce these disgraceful, anti-American actions immediately. https://t.co/3McJq6KuQg

— Mike Quigley (@RepMikeQuigley) August 12, 2017
Sen. Patrick Leahy (D-Vermont) called the president's initial silence "defining."
President Trump's silence as #Charlottesville roils with racist and fascist provocation is shameful, irresponsible...and, DEFINING.

— Sen. Patrick Leahy (@SenatorLeahy) August 12, 2017
While Democrats were generally quicker to respond to the Charlottesville violence on Twitter, Republicans also condemned the day's events. Rep. Justin Amash (R-Michigan) called for Americans to stand against racism. 
Racism is vile and the #Charlottesville rally is disgusting. Let's stand as Americans for the self-evident truth that all are created equal.

— Justin Amash (@justinamash) August 12, 2017
Sen. Cory Gardner (R-Colorado) said the "hate" spewed in Charlottesville is "un-American."
The hate being spewed in Virginia has no place in this country. It's deeply disturbing and un-American.

— Cory Gardner (@SenCoryGardner) August 12, 2017
The rally came shortly after a large group of torch-bearing white nationalists marched through the University of Virginia campus Friday night, after a judge issued a ruling allowing Saturday's protest to move forward.