Trump endorses Karen Handel in Georgia race

USA TODAY
6/19/2017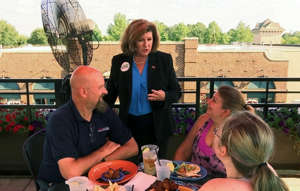 WASHINGTON – President Trump weighed in on a closely watched U.S. House race Monday, asking voters in a Georgia congressional district to back Republican Karen Handel as way to further his agenda.
"The Dems want to stop tax cuts, good healthcare and Border Security," Trump said in a tweet before instructing his followers to "vote now for Karen H."
Handel, a former Georgia secretary of state, is running against Democrat Jon Ossoff, a former political aide and filmmaker, in a special election to replace U.S. Rep. Tom Price, R-Ga., whom Trump appointed as secretary of health and human services.
While the Atlanta area district leans Republican, Democrats believe that Trump's low approval ratings will help election Ossoff.
While Trump has endorsed Handel, he has no plans to travel to Georgia to campaign for her.