Trump floating Mark Meadows for White House chief of staff: reports

The Hill
12/9/2018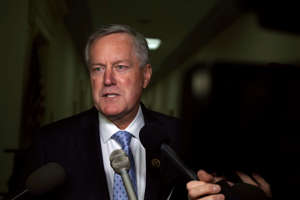 © Getty WASHINGTON, DC - DECEMBER 07: U.S. Rep. Mark Meadows (R-NC) speaks to members of the media as he arrives at the Rayburn House Office Building where former Federal Bureau of Investigation Director James Comey testifies to the House Judiciary and Oversight and Government Reform committees on Capitol Hill December 07, 2018 in Washington, DC. With less than a month of control of the committees, House Republicans subpoenaed Comey to testify behind closed doors about investigations into Hillary Clinton's email server and whether President Trump's campaign advisers colluded with the Russian government to steer the outcome of the 2016 presidential election. (Photo by Alex Wong/Getty Images) President Trump has privately been floating the idea of replacing Chief of Staff John Kelly with Rep. Mark Meadows (R-N.C.), according to Axios.
The news outlet, citing three sources with knowledge of the matter, reported on Sunday that Trump has recently been asking many people about who he should name as his chief of staff when Kelly officially departs.
He's asked many of them what they think of Meadows, a North Carolina congressman who is currently the chairman of the conservative House Freedom Caucus. He's also reportedly mentioned three other people as other possible candidates.
Axios said it did not have information about those possible candidates.
Meadows was rumored as a possible chief of staff contender back in February. Other people on Trump's list of contenders now include Office of Management and Budget Director Mick Mulvaney.
Washington Post reporter Josh Dawsey tweeted that a White House official with direct knowledge confirmed Axios' report to him.
The Hill has reached out to the White House for comment.
The report arrived the same day that Nick Ayers, the current chief of staff for Vice President Pence, announced that he would not fill the chief of staff position.
"Thank you @realDonaldTrump, @VP, and my great colleagues for the honor to serve our Nation at The White House," Ayers wrote on Twitter. "I will be departing at the end of the year but will work with the #MAGA team to advance the cause."
Ayers was considered the likeliest choice to replace Kelly after Trump told reporters on Saturday that Kelly would leave the administration by the end of the year.
Ayers reportedly could not give Trump a two-year commitment, something that the president desires.
He will instead work for the super PAC supporting the president, a source told The Hill.
]]>