Trump nominates Jeffrey Rosen to replace Rosenstein at DOJ

The Hill
2/20/2019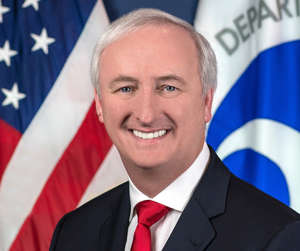 © Associated Press In this image provided by the Department of Transportation, deputy transportation secretary Jeffrey Rosen is shown in his official portrait in Washington. President Donald Trump has nominated Rosen to be the next deputy attorney general. (Department of Transportation via AP) President Trump on Tuesday announced his intention to nominate Jeffrey Rosen, the current deputy Transportation secretary, to be the next deputy attorney general.

If confirmed, Rosen would replace Rod Rosenstein, who oversees the special counsel investigation into Russian election meddling.
Rosenstein plans to leave the Department of Justice next month, according to the Washington Post.
Bloomberg News reported Tuesday that Attorney General William Barr, who was confirmed last week, chose Rosen as his deputy.
Barr and Rosen were both formerly partners at the prestigious law firm Kirkland & Ellis.
Barr in a statement praised Rosen, calling him a "distinguished lawyer who has served at the highest levels of government and the private sector."
"His years of outstanding legal and management experience make him an excellent choice to succeed Deputy Attorney General Rod Rosenstein, who has served the Department of Justice over many years with dedication and distinction," Barr added.
Secretary of Transportation Elaine Chao also lauded Rosen in a statement, saying he has "played a critical role in helping me lead and manage" the Department of Transportation.