Trump printout of Putin comments includes handwritten 'there was no collusion'

The Hill
7/17/2018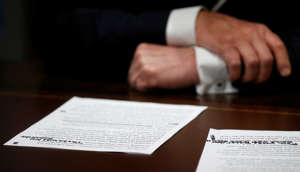 © Reuters U.S. President Donald Trump's prepared remarks show his own handwritten note "There was no collusion" at the top as he speaks about his summit meeting with Russian President Vladimir Putin at the start of a meeting with members of the U.S. Congress at the White House in Washington, July 17, 2018. REUTERS/Leah Millis President Trump's prepared remarks on Tuesday aimed at walking back his comments that he doubted whether Russia interfered in the 2016 election included a handwritten note emphasizing that "there was no collusion."
Trump spoke to reporters at the White House on Tuesday where he read from a series of printed pages. He emphasized that he accepts the intelligence community's assessment that Russia interfered in the 2016 election, but added in an apparent ad-lib that "other people" also could have been involved.
Multiple pages included handwritten notes scrawled in black marker. One page included a note about a "permanent middle class tax cut," while multiple reporters on Twitter quickly noticed that one page apparently featured the message "There was no colusion [sic]."
Trump was reading for a typewritten script during his "clarification" moment but he made some handwritten additions, including: "THERE WAS NO COLLUSION" pic.twitter.com/0IfleZm8yJ

- Kevin Liptak (@Kevinliptakcnn) July 17, 2018
The note appeared on the same page that included Trump's explanation that he misspoke the previous day when he said while standing alongside Russian President Vladimir Putin that he saw no reason why it "would be" Russia that interfered in the election.
Trump asserted Tuesday that he meant to say he saw no reason why it "wouldn't be" Russia that interfered.
"It should have been obvious," Trump added. "So you can put that in and I think that probably clarifies things."
The president up until Tuesday afternoon had dug in against the mounting criticism of his performance at Monday's press conference with Putin.
© Provided by The Hill Trump took to Twitter while aboard Air Force One en route back to the U.S. to assert he has "full confidence" in his intelligence community, but offered no condemnation of Russia. He again declined to clarify his remarks during an interview with Fox News's Sean Hannity after the summit in Helsinki.
On Tuesday morning, Trump declared that his meeting with Putin was "even better" than the NATO summit he attended days earlier, and criticized the news media, claiming they provided unfair coverage.
During the joint press conference in Finland, Trump said his intelligence officials had told him Russia interfered in the 2016 election but he noted that Putin offered a "very strong" denial.
Trump went on to deny that he colluded with Russia during the election, recounted his victory over 2016 rival Hillary Clinton and called special counsel Robert Mueller's investigation into Russian meddling "ridiculous."
Democrats, Republicans and some of his fiercest allies in the media ripped Trump's performance, calling it "pathetic," "disgraceful," and "disgusting," and urged the president to reverse course and stand up to Putin.