Trump says summit with Putin was 'even better' than NATO meeting as growing number of Republicans criticize his Helsinki comments

The Washington Post
7/17/2018
President Trump on Tuesday portrayed his summit with Russian President Vladi­mir Putin as a great success, saying that it had gone "even better" than a meeting with NATO allies the week before.
In a morning tweet, the president blamed the media for negative coverage of his joint news conference Monday with Putin in Helsinki — a performance by Trump that was widely panned by members of both poltical parties.
"While I had a great meeting with NATO, raising vast amounts of money, I had an even better meeting with Vladimir Putin of Russia." Trump wrote. "Sadly, it is not being reported that way - the Fake News is going Crazy!"
Subscribe to the Post Most newsletter: Today's most popular stories on The Washington Post
During a remarkable 46-minute joint news conference at the end of Monday's summit, Trump would not challenge the Russian leader's claim that his government played no role in trying to sabotage the U.S. election, despite the Justice Department's indictments Friday of 12 Russian intelligence officers.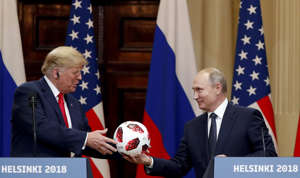 Slideshow by photo services
Trump's performance prompted a wave of condemnation, including from many in his own party. On Tuesday, a growing number of Republicans called for him to take swift action to embrace the U.S. intelligence community's findings about Russian interference in the 2016 election and limit the damage from Helsinki.
On morning television shows and social media, several Trump supporters offered similar advice: that Trump explain to the nation why he appeared to side with Putin instead of the U.S. intelligence team at Monday's news conference.
"He's got to speak out about it, and he's got to reverse course immediately," former White House communications director Anthony Scaramucci said during an appearance on CNN. "The optics of this situation are a disaster. . . . If he doesn't reverse course on this, he will eventually lose people who want to support him."
Scaramucci, who said he still considers himself loyal to Trump, recommended that the president huddle with "his smartest, most loyal aides" and craft a statement making clear he understands there was Russian interference in the election.
Trump could do that while continuing to insist there was no collusion between the Russians and his campaign, Scaramucci said.
Around 9 a.m. Tuesday, Trump first tweeted about the summit, following his return to Washington the night before. He thanked Sen. Rand Paul (R-Ky.), one of the few prominent Republicans who have defended his performance at Monday's remarkable 46-minute joint news conference.
Earlier in the morning, Paul defended Trump on CBS, saying he has been the focus of a "partisan investigation" over Russia and is "sensitive to that."
Other Republicans weren't as forgiving.
"It was a really bad day for the president," Rep. Adam Kinzinger (R-Ill.) said Tuesday morning on CNN. "I think President Trump was wrong yesterday in a major way, and I think it was a very embarrassing press conference."
Kinzinger said Trump needed to speak to the nation about what happened — in person and not on Twitter.
"You need to come out today and very much clarify this," he said.
Kinzinger's pleading echoed former House speaker Newt Gingrich, a Republican who typically defends Trump.
"President Trump must clarify his statements in Helsinki on our intelligence system and Putin," Gingrich wrote on Twitter Monday. "It is the most serious mistake of his presidency and must be corrected — immediately."
© Provided by WP Company LLC d/b/a The Washington Post Rep. Matt Gaetz (R-Fla.), whom Trump recently endorsed for reelection, was asked during an appearance on Fox News's "Fox & Friends" on Tuesday whether he thinks Trump should clarify his comments at the news conference.
"I look for the president to maybe illuminate a little further the progress that was made in the closed-door session," Gaetz said, referring to a two -hour meeting earlier Monday between Trump and Putin, at which only their translators were present.
Fellow Republicans criticized Trump on Monday, including Rep. Peter T. King (R-N.Y.), who said the president needs to be clearer about the difference between Russian interference and alleged collusion with the Trump campaign.
"I mean, the president never makes a distinction between collusion and meddling," King said. "To me, I still believe there's no collusion. I've seen no evidence of that. What he said, he lumps it all together."
"The more he says there's no meddling, the more some people are going to think there's collusion," King added. "Just as he's making the mistake of mixing the two together, so the public says, 'Well, if he's denying this, he's denying everything.'"
Trump has no public events on his schedule Tuesday, but he is scheduled to meet behind closed doors in the afternoon with lawmakers from the Ways and Means Committee to discuss taxes.
In another tweet Tuesday morning, Trump took credit for pledges from NATO allies at a summit last week in Brussels to meet their targets for defense spending — a move he said was "bad for Russia."
At a news conference following the NATO summit last week, the president claimed that alliance members had agreed to "substantially up their commitment . . . at levels that they've never thought of before." However, other NATO leaders disputed Trump's assertions.
john.wagner@washpost.com
Mike DeBonis contributed to this report.