Trump submits written answers to special counsel's questions in Russia probe

FOX News
11/20/2018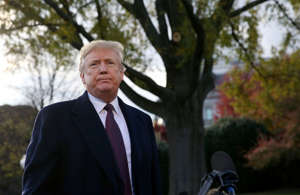 © REUTERS/Leah Millis U.S. President Donald Trump speaks to the news media while walking to board Marine One to depart for travel to Mar-a-Lago from the White House in Washington, U.S., November 20, 2018. REUTERS/Leah Millis President Trump on Tuesday submitted written answers to Special Counsel Robert Mueller's questions in the ongoing Russia investigation, marking a major milestone in the long-running probe as it seemingly nears its conclusion.
"The President today answered written questions submitted by The Special Counsel's Office," Jay Sekulow, Counsel to the president, said in a statement. "The questions presented dealt with issues regarding the Russia-related topics of the inquiry. The President responded in writing."
Added Trump attorney Rudy Giuliani: "It has been our position from the outset that much of what has been asked raised serious constitutional issues and was beyond the scope of a legitimate inquiry. This remains our position today. The President has nonetheless provided unprecedented cooperation. The Special Counsel has been provided with more than 30 witnesses, 1.4 million pages of material, and now the President's written responses to questions. It is time to bring this inquiry to a conclusion."
Outside the White House Tuesday afternoon, Trump told reporters the announcement was coming, shortly before he departed to Mar-a-Lago in Florida for the Thanksgiving holiday.
"They're all finished…. The lawyers have them," Trump said. "The written answers to the witch hunt that's been going on forever. No collusion, no nothing. They've been finished. Finished them yesterday. The lawyers have them. I assume they'll turn them in today or soon."
Speaking exclusively to "Fox News Sunday" this weekend, Trump told host Chris Wallace that he had personally dictated his responses to his team, who was "writing what I tell them to write."
Trump emphasized, however, that he probably would not sit for an in-person interview with Mueller, amid fears voiced by his attorneys that the could be tricked into a so-called "perjury trap" in which, even if the president is honest, his version of events differs from other witness accounts enough to trigger a criminal prosecution.
"We've wasted enough time on this witch hunt and the answer is, probably, that we're finished," Trump said.
He continued: "We gave very, very complete answers to a lot of questions that I shouldn't have even been asked, and I think that should solve the problem. I hope it solves the problem, if it doesn't, you know, I'll be told and we'll make a decision at that time. But probably this is the end."
Trump also defended Acting Attorney General Matthew Whitaker against Democrats' calls that he should recuse himself because he has written critically of Special Counsel Robert Mueller's probe, which he said in 2017 was at risk of becoming a "political fishing expedition."
Trump added that he "would not get involved" in Whitaker's decisions as he oversees Mueller's probe in his new role as head of the Justice Department. The DOJ's Office of Legal Counsel issued an opinion affirming the constitutionality of Whitaker's temporary appointment without Senate approval.
"Look he -- it's going to be up to him," Trump said. "I think he's very well aware politically. I think he's astute politically. He's a very smart person. A very respected person. He's going to do what's right. I really believe he's going to do what's right."
The president announced on Friday in the Oval Office that he had completed his written responses and was looking over them before sending them in.
"I was asked a series of questions. I've answered them very easily," Trump said, adding one has to "always be careful when you answer questions with people that probably have bad intentions."
This is a developing story. Please check back for updates.
Fox News' John Roberts contributed to this report.