How you can help feed hungry Americans this holiday season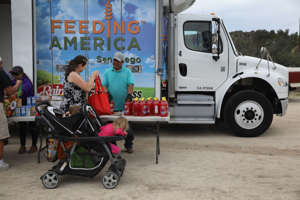 © John Moore/Getty Images JACAMBA HOT SPRINGS, CA - SEPTEMBER 26: Residents receive free food at mobile food pantry near the U.S.-Mexico border on September 26, 2016 in Jacamba Hot Springs, California. The Feeding America truck delivers to the border town's needy residents twice a month. (Photo by John Moore/Getty Images)

This month, Microsoft News is putting a focus on Poverty in America. We are inviting our readers to join us this Thanksgiving holiday in supporting the work of Feeding America, a nationwide network of food banks which not only helps put nutritious food in the stomachs of people who don't have enough, but aims to address the root causes of hunger as well through research, advocacy and awareness campaigns.  
Thanks to the generosity of people who donate: 
$25: helps provide enough meals to a person for over 10 weeks
$50: helps provide over 2 and half months of meals to 2 hungry children
$100: helps provide a family of 4 with enough meals for almost 3 months
If you or someone you know is in need of help, Feeding America operates food banks in every county in America. You can find your local pantry here. 
We hope you'll join us in our efforts to raise awareness around poverty, improve how we approach people living in poverty, and raise money and volunteer efforts for the organizations that are helping Americans in poverty with both their immediate needs and long-term pathways to more stable and prosperous lives.
Want to know more about MSN + Benevity? Read our FAQs.