Disaster preparedness apps are flourishing ahead of Hurricane Florence

The Washington Post
9/12/2018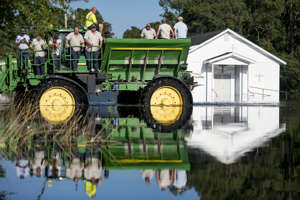 Slideshow by photo services
Last year, it took Hurricane Harvey and Irma —— two of the worst natural disasters in American history —— to make Zello the most downloaded app online.
This year, it appears, the public isn't waiting for disaster to start preparing digitally.
Subscribe to the Post Most newsletter: Today's most popular stories on The Washington Post
As Hurricane Florence heads toward North Carolina, Zello —— the walkie-talkie app favored by rescuers to communicate in disaster zones —— hit the top spot in the App Store on Wednesday. The App is also trending on Google Play at the moment.
As recently as Monday, Zello was ranked 25th among social networking apps. The app has surged in recent days alongside several other weather apps, revealing that the public has learned from last year's storms that apps can be a crucial component of emergency preparedness, according to Adam Blacker, a research analyst for Apptopia, a company that tracks the mobile app economy.
"Zello is the #1 app today in the App Store and has been gaining in downloads for several days," Blacker said. "There are also three weather tracking apps in the top 30 which is very uncommon. Another app being downloaded in preparation for Florence is GasBuddy."
"People can use this app to prepare for either travel to safe zones or for use in their back up generators," he added.
© NOAA/HANDOUT/EPA-EFE/REX/Shutterstock/Noaa/Handout/Epa-Efe/Rex/Shutterstock This photo shows a Geo-Color satellite image of Hurricane Florence approaching the US coast on Sept. 12, 2018. (Photo by NOAA/HANDOUT/EPA-EFE/REX/Shutterstock) Unlike actual walkie-talkie radios, Zello does not utilize radio waves. But as long as someone has a network or WiFi connection —— including a 2G or 3G connection —— Zello allows people to use their phone like a two-way radio, posting critical voice messages or photos to channels used by rescuers. Users can create their own channels to communicate with family members, for example, allowing groups of people to communicate in real time as if they're using walkie-talkies.
The app rose to prominence in the wake of Hurricane Harvey, when the all-volunteer Cajun Navy used the app to coordinate a chaotic rescue operation in place of overwhelmed public officials. During Harvey, the app allowed victims and rescuers to post voice messages to specific channels, such as "the Cajun Navy" and "Harvey Animal Rescue."
In Houston, volunteers found another way to use the app. By monitoring Facebook, Twitter and Instagram, users were able to feed information to rescue boaters who then took that information and used Zello to coordinate rescues in flooded neighborhoods all over the region.
Zello has more than 120 million users worldwide, according to the company.
Last year, Bill Moore, the Austin-based start-up's chief executive, told The Post that the app's success stemmed from its ability to channel sound in disaster zones.
"With voice, someone can communicate a ton of information in a way that text does not," Moore said. "In a few seconds of hearing your voice, I can guess what part of the country you're from, if you've been drinking, what mood you're in, whether you're afraid or in distress."
"For that reason, voice becomes great for solving problems, and it demands attention from both sides in a way that texting does not," he added. "Your brain is wired for voice."