Elon Musk's first Boring Company tunnel opens, but the roller-coaster ride has just begun

The Washington Post
12/19/2018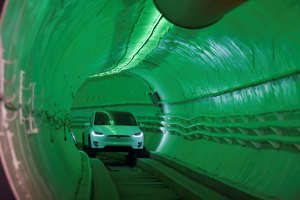 Photo gallery by Reuters
HAWTHORNE, Calif. — For Elon Musk's very difficult year, there's a light at the end of the tunnel.
Specifically, it's a 1.14-mile tunnel the inventor and beleaguered CEO of Tesla Motors says is a first step in solving "soul-destroying" urban traffic. In 2016, Musk — already busy running two high-profile companies — founded a construction firm called the Boring Company to tackle gridlock by drilling underground. Some thought it was a joke. Two years of big promises and $40 million later, his just-in-time innovation machine delivered a functioning test tunnel on Tuesday.
What's it like to ride through Elon's tunnel? Bumpy, but that's all part of the ride on a Musk enterprise.
Subscribe to the Post Most newsletter: Today's most popular stories on The Washington Post
I had the chance to zip through in a Tesla Model X at a launch event that was part Musk pep rally and part amusement park ride. The tunnel runs about 40 feet underneath a road alongside the headquarters of SpaceX, another Musk venture located in this Los Angeles suburb. With an inner diameter of just 12 feet, the tunnel is smaller than most subway systems and just wide enough to fit a single car, which makes its way down to the tunnel through an elevator.
Our elevator was hidden in the back lot of what had formerly been the Los Vegas Kitchen Cabinets store, but is now a well-camouflaged Boring building protected by armed guards. After we pulled through a gate into a platform about the size of two standard parking spaces, the ground dropped beneath us through a circular opening until we were facing the entrance to the tunnel. Batman would have been jealous.
My test Tesla had been modified with an additional set of guide wheels — sticking out in front like a pair of ears. Those aligned with the edges of the tunnel, turning the consumer electric SUV into a kind of rail-guided train. It's like running your car through an automated carwash, but much faster.
Once a light at the front of the tunnel turned green, the car was off. White paint and blue lighting along the top of the tunnel eased some of the feeling of being trapped underground. The Tesla, which has autonomous capabilities, did much of the driving itself — navigating curves and adjusting its speed while locked with those alignment wheels — but there was still a trained driver behind the wheel.
Despite the automation, the experience was turbulent. The car jostled with many bumps in the concrete along the bottom of the tunnel, even though our top speed reached just 49 miles per hour. (The proximity to the tunnel walls made it seem like we were going faster.) Boring's first outing was less polished than either a typical tech product launch or the inaugural run of a new public subway service.
In a press briefing, Musk said Boring had run out of time to smooth out the test tunnel's concrete base, which caused the bumpy ride. (Musk had originally promised to open the test tunnel last week.) Once Boring figures out how to efficiently smooth the concrete, Musk said cars could go through the tunnel at up to 150 miles per hour.
"We are obviously in the early stages here — this is a prototype and we are figuring things out," said Musk. "What is really important is that there is a path finally, finally, finally I think … to alleviating traffic congestion in cities."
The car-mounted guide wheel system is an about-face on the mechanism Musk had originally said would allow vehicles to travel through his tunnels at high speed. He had touted cars inside Boring tunnels would sit on electric skates. But Musk said having the cars move themselves was less expensive, and the wheels could be adapted to more kinds of cars.
I kept wondering: What about earthquakes, particularly in California? Musk said seismic risks were less of a concern underground. The area around Hawthorne experienced an earthquake while Boring was digging the tunnel; ground crew were shaken, but the team underground had no idea it even happened, Musk said.
So what makes the electric car pioneer and rocket inventor an expert in drilling? Musk thinks Boring can lower the cost of tunneling projects while also increasing their speed by 15 times through some relatively simple changes to the way typical tunneling machines work. "No Nobel Prizes needed here," he said.
For one, it's selling bricks made out of the dirt it digs up — which Boring demonstrated by building a medieval-style tower next to one of its test tunnel openings. At Boring's launch party, actors portrayed characters from Monty Python guarding the tower.
Can a tunnel traffic system, which Boring dubs The Loop, really change traffic? Unlike a traditional subway or train system, Musk said the Loop's main arteries won't make frequent stops. Instead, they'd have a series of tributaries that would take people to local destinations with their own elevators to take vehicles up to the street.
Like other Musk endeavors, the idea is buzzy but requires a leap of faith.
Further bumps ahead including getting buy-in from finicky cities and communities who'd need to invest in huge networks of tunnels. Last month, Boring withdrew another project underneath Los Angeles' Sepulveda Boulevard after community groups sued the government over plans to exempt the company from an environmental review process. It has plans for another tunnel in Los Angeles, as well ones in Chicago and the D.C. to New York corridor.
Another question: Is Boring just creating private tunnels for rich Tesla owners? Musk said other kinds of cars could be outfitted with the needed guide wheels. But they'd have to be electric vehicles to avoid filling the tunnels with exhaust. And the cars would also have to be autonomous to safely navigate at high speeds, entering the tunnels at a rate of about 1 per second.
The price of a ride is still to be determined, but Musk said he'd like it to be about $1 for a shared public transit car, or $4 for a private car.
Musk said Boring's tunnels could eventually connect with another of his ambitious plans: a so-called Hyperloop that would provide very high speed travel across long distances using a vacuum tubes. "But that's for another day," he said.
Musk also his eye on one other use for Boring technology: digging around Mars, once his SpaceX firm is able to provide travel to the planet. "This is all a secret plot to build Mars technology," he joked.