Facebook's Zuckerberg will face European Parliament to answer questions over improper use of data

Daily Mail
5/16/2018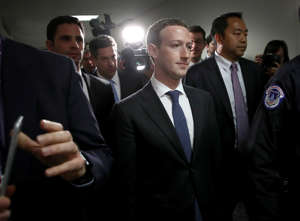 © Win McNamee/Getty Images Facebook CEO Mark Zuckerberg faced U.S. lawmakers' questions about privacy in April. Mark Zuckerberg will appear before the European Parliament to answer questions about the improper use of data of millions of Facebook users by British consultancy firm Cambridge Analytica.
The Facebook CEO could face European officials in Brussels as early as next week, when he is due to attend a tech summit in Paris organized by French President Emmanuel Macron. 
Facebook has come under scrutiny over the way it handles personal data after revelations that Cambridge Analytica improperly accessed data of 87 million users.
"The founder and CEO of Facebook has accepted our invitation and will be in Brussels as soon as possible, hopefully already next week," president of the European Parliament, Antonio Tajani, said in a statement.

The European Parliament has requested Zuckerberg appear before the assembly more than once, and it appears he has finally agreed.
The 34-year-old Facebook CEO will notably meet party leaders and members of the civil liberties committee, the statement said.
In April, Zuckerberg fielded questions over two days from U.S. lawmakers over how it handles private data, refusing to make any promises to support new legislation or change how the social network does business.  

Zuckerberg's visit comes as he is due to meet Macron along with more than a dozen technology chief executives during a Tech for Good summit in Paris next week.
Macron's office said Wednesday that the French president will hold "very frank" talks with Zuckerberg on tax and data privacy during his visit.
"There will be tough discussions," one official in Macron's office said.