'I hope Trump is assassinated,' Missouri lawmaker writes, and quickly regrets

Kansas City Star
8/17/2017
Video by Newsy
A Democratic Missouri state senator from University City posted, then quickly deleted, a comment on Facebook saying she hoped President Donald Trump would be assassinated.

As a result of Sen. Maria Chappelle-Nadal's comment, the U.S. Secret Service's St. Louis field office is investigating and both Sen. Claire McCaskill and the chairman of the Missouri Democratic Party have called on her to resign.
Chappelle-Nadal told The Star she posted the comment out of frustration with the "trauma and despair" the president is causing with his statements about the events in Charlottesville, Va.
"The way I responded this morning was wrong," she told The Star. "I'm frustrated. Did I mean the statement? No. Am I frustrated? Absolutely. The president is causing damage. He's causing hate."
Chappelle-Nadal posted the comment on her personal Facebook page, which is not open to the public.
"On my personal Facebook, I put up a statement saying, 'I really hate Trump. He's causing trauma and nightmares.' That was my original post," she said. "A whole bunch of people responded to that."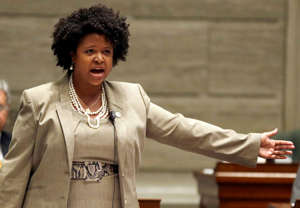 © AP Photo/Jeff Roberson In this Sept. 10, 2014, file photo, Missouri state Sen. Maria Chappelle-Nadal speaks on the Senate floor in Jefferson City, Mo. Chappelle-Nadal says she posted and then deleted a comment on Facebook that said she hoped for President Donald Trump's assassination. The Democratic Senator says she didn't mean what she posted Thursday, Aug. 17, 2017, but was frustrated with the president's reaction to the violence last weekend in Charlottesville, Va. Later in the thread, in response to another commenter, she wrote: "I hope Trump is assassinated!"
She later deleted the comment.
"It was wrong for me to post that," Chappelle-Nadal said. "But I am not going to shy away from the damage this president is causing."
In Charlottesville, white nationalists and counterprotesters clashed over the removal of a Confederate monument. An alleged white supremacist drove his car into a crowd near the city's downtown mall, killing a 32-year-old woman.
Trump reacted to the events in Charlottesville by saying "both sides" were to blame for the violence, comments that drew immediate criticism from across the political spectrum.
Chappelle-Nadal noted that it was recently the three-year anniversary of the fatal shooting of Michael Brown by a police officer in Ferguson — a city she represents in the Missouri Senate. Additionally, the NAACP recently issued a travel advisory for Missouri, warning people to be careful while in the state because of a danger that civil rights won't be respected.
"There are people who are afraid of going out in the streets. It's worse than even Ferguson."
Trump's comments "make it easier for racists to be racists," Chappelle-Nadal said.
"As long as I have a voice," she said, "I'm going to talk about the damage (Trump) is creating in this nation."
Her Facebook comment, which was first reported by a conservative radio host in St. Louis, was condemned by Senate Minority Leader Gina Walsh, a St. Louis County Democrat.
"Promoting, supporting or suggesting violence against anyone, especially our elected leaders, is never acceptable," Walsh said in a statement. "There is too much rancor and hate in today's political discourse, and Sen. Chappelle-Nadal should be ashamed of herself for adding her voice to this toxic environment."
McCaskill, a Democrat, released a statement on Chappelle-Nadal's comment, saying "I condemn it. It's outrageous. And she should resign."
Stephen Webber, chairman of the Missouri Democratic Party, agreed that Chappelle-Nadal should resign.
"State Sen. Chappelle-Nadal's comments are indefensible," Webber said. "All sides need to agree that there is no room for suggestions of political violence in America — and the Missouri Democratic Party will absolutely not tolerate calls for the assassination of the president. I believe she should resign."
Missouri Auditor Nicole Galloway, a Columbia Democrat, tweeted that Chappelle-Nadal's "words and sentiments are absolutely unacceptable. Violent rhetoric has no place in our political discourse."
Rep. Shamed Dogan, a St. Louis County Republican, joined in the condemnation of Chappelle-Nadal.
"I don't care what the president says or how mad you are, you don't call for his assassination," he posted on Twitter. "Especially if you're an elected official."
Chappelle-Nadal was adamant in her interview with The Star that "I'm not resigning."