After Border Separation, Family Tries to Get Nephew Out of Foster Care

The Wall Street Journal.
6/23/2018
ARNOLD, Md.—Getting Danny, a slight boy with a bowl cut and big brown eyes, became Nila Serrano's mission one month ago, after a 5 a.m. phone call. 

An official saying he was with a U.S. Border Patrol "processing center" told her that authorities had detained her 27-year-old sister-in-law, Delsy Guadalupe "Lupe" Serrano Torres, and Lupe's 8-year-old son Danny.
Mother and son had illegally crossed the U.S.-Mexico border near El Paso, Texas, following a trek from their native Honduras. Lupe requested asylum. The Border Patrol official said the two would be separated.
Ms. Serrano sat up.
"What?" she recalls saying. "Oh, my God."
© Matt Roth for The Wall Street Journal For 30 days, Ms. Serrano and her husband, who live in suburban Maryland, have been struggling to gain temporary custody of Danny. They have navigated a bureaucratic thicket to get Ms. Serrano named Danny's "sponsor": A home inspection; fingerprinting for background checks; frequent phone calls with Danny's social worker in New York, Lupe in Texas and relatives back in Honduras. Ms. Serrano said she is still waiting for approval.
"We have to get Danny," Ms. Serrano said in an interview Wednesday evening with The Wall Street Journal at her ranch-style home.
Get news and analysis on politics, policy, national security and more, delivered right to your inbox
Chaos is unfolding far beyond Texas in the fallout from the Trump administration's "zero-tolerance" policy that took more than 2,300 children from adults they accompanied across the southern border. Minors are living in government facilities or with foster families across the country. U.S.-based relatives are enmeshed in lengthy vetting processes to take in their own loved ones.

Even after President Donald Trump's executive order Wednesday ending the separation policy, the path to reunification remains elusive for families.
The odyssey to help Danny and Lupe is heaping financial and logistical strain on Ms. Serrano, an American of Colombian descent who grew up in Michigan, and her husband, Elmer, a permanent U.S. resident who immigrated from Honduras. They are paying for a lawyer in Texas to represent Lupe.
"We're going to do everything we can," said Ms. Serrano, who handles order fulfillment for a chemical firm while her husband works for a moving company. The couple's 4-year-old son, Nico, and her 17-year-old son live with them.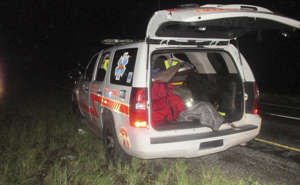 Photo gallery by photo services
The family's ties stretch to a small town in Honduras, home to Mr. Serrano's family, including—until recently—his younger sister Lupe, a nurse.
Lupe had been receiving death threats from her husband—Danny's stepfather—after she began to let Danny's birth father back into their life, according to Maria Angela Torres, Lupe's mother.
"He said that if she got together with the father of the boy again, he would kill her," Ms. Torres said by phone from Honduras. Ms. Serrano said Lupe had gone to the police but nothing was done.
Lupe decided to flee to the U.S., Ms. Torres said.
Ms. Torres said she last spoke with her daughter before she crossed from Mexico into the U.S.
During the predawn call from the Border Patrol, Ms. Serrano said she would immediately fly to Texas and pick up Danny.
"No, things are different now, ma'am," she said the official told her. "I was shocked," she said.
Ms. Serrano said the official told her to expect a call in three days. No call came, so she spent two days calling nearly a dozen different numbers for immigration authorities. Rarely could she reach anyone, and voice mailboxes were full.
On May 27, a social worker called her. Danny had been put on a plane and sent 2,100 miles north to New York. Lupe remained in Texas at an El Paso detention center.
Ms. Serrano eventually learned that Danny, who speaks no English, was placed with a foster family in Manhattan—with whom she isn't allowed contact—that houses three other immigrant boys, including two from Honduras. He had been given clothes and a backpack; he goes to school, sleeps in his own bed and has visited a park.
"Danny is living with strangers," she said.
She then discovered the extensive vetting process she would have to go through an to become his sponsor and caretaker.
Government procedures are in place to make sure unaccompanied minors who cross the border go to safe homes, but the process was meant for minors who are typically teenagers and alone, said Wendy Young, the president of Kids in Need of Defense, a legal-aid organization. Young children who came with their parents, she said, were not placed into "the system."
"We're in new territory here," she said.
Danny was one of hundreds of children winding up in New York, many with foster families and under the care of the nonprofit Cayuga Centers. The organization didn't respond to a request for comment.
A Cayuga social worker arranged for Danny to have weekly supervised video chats with Ms. Serrano from a Cayuga facility.
"He gets real quiet," Ms. Serrano said. "We just have to probe him: 'Have you eaten? Do you have enough clothes?' "
He has been able to speak with his mother by phone, Ms. Serrano said. He seems confused and wonders when he can give his mother the pictures he draws for her.
In early June, Ms. Serrano traveled for fingerprinting at a center run by a Catholic Charities of Baltimore. A week later her husband did the same, only this time the center told him that, under a new U.S. policy, his prints also would go to the Department of Homeland Security for purposes of verifying immigration status. That same day, a representative from a nonprofit agency conducted an inspection of Ms. Serrano's home as part of the process to certify her as a caretaker.
She shared little of her ordeal, confiding in only one co-worker. The topic of immigration was too heated. "You just never know," she said.
On Wednesday, during a college visit with her teenage son, she had missed two calls from her husband and two calls from Lupe.
It was good news.
U.S. immigration officials had agreed to release Lupe on a $2,500 bond. Lupe's lawyer told her that a "deportation officer" would call with details on getting Lupe to Maryland, where her immigration case would be heard.
Ms. Serrano and her husband began debating whether to tell Danny the news right away. They had no idea when Lupe might get out, when he might be reunited with them in Maryland—or which would come first.
Ms. Serrano said she spent Thursday on the phone trying to reach the right place at ICE in Baltimore to pay the bond—and was still waiting for a callback Thursday afternoon.
The U.S. Department of Health and Human Services didn't respond to a request for comment on how released detainees would be reunited with minors.
Late Thursday, Ms. Serrano said she had spoken with Lupe, who said she had reached Danny and told him that they both would be released—though she couldn't say exactly when.
"He said 'Thank God…that he's been praying that he could see her,'" Ms. Serrano said Lupe told her.
Ms. Serrano has been glued to her phone, ready to race to New York and wrap her arms around Danny.
"I don't care if it's in the middle of the night," she said. "I'm going."
Write to Scott Calvert at scott.calvert@wsj.com and Jennifer Levitz at jennifer.levitz@wsj.com