After Parkland, this survivor is fighting for gun control and against Islamophobia

NBC News
4/12/2018
Before there was the running around the school trying to figure out what the second fire alarm was for, before she spent hours trying to find out if her friend was okay, before America's youth activism on gun safety reform became a national movement, things were ordinary for 18-year-old Sara Imam, a student at Marjory Stoneman Douglas (MSD) High School.
She was volunteering with an organization that supports development initiatives for children in underprivileged communities, had recently qualified for an entrepreneurship contest, and was beginning to hear back from colleges when Nikolas Cruz allegedly killed 17 and injured many more in a Feb. 14 mass shooting at Iman's high school. Now added to that list is her activism with her classmates, who have been rallying for gun control reform.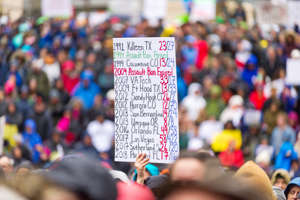 Photo gallery by photo services
"I've never been the most vocal of people when it comes to my opinions or what I believe in," Imam said. "But this is something that has definitely affected me, and... it's definitely different, it's a lot more drastic than my activism before."
Imam — who said she took to Twitter on the day of the shooting to try to locate her friend, Carmen Schentrup, who was killed in the shooting — eventually started using the platform to rally for gun reform. On March 24, she represented the March For Our Lives movement in Toronto, where she delivered a speech at a rally.
She was attacked on Twitter for her views like many of her classmates, she said, but some of the attacks targeted at her were different. Some were Islamophobic or anti-immigrant, she noted. Several tweets told her to "go back to your country," Imam added, and connected violence with Islam.
"I actually took my last name off of Twitter because my last name is Imam and due to my last name, due to the very clearly Muslim relation, I received backlash from many people," Imam said. She has since re-added her last name.
I've been doing a lot of thinking since march 24. Thinking about what we've gone through. Thinking about how far we've come. Thinking about the strength we've gathered. I've never been so proud to be a part of a revolution. Thank you for letting me use my voice #MarchForOurLives pic.twitter.com/msgztYn7z3

— Sara Imam // #NEVERAGAIN (@_saxarmaxim) March 26, 2018