Spokesman: Military post on lockdown, possible shooter

Associated Press
6/27/2017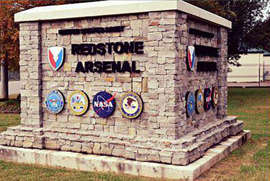 © Team Redstone via Facebook File photo of a Redstone Arsenal sign in Huntsville, Ala. HUNTSVILLE, Ala. — A north Alabama military post said in a tweet it was on lockdown Tuesday amid reports of possible active shooter, telling workers to "run hide fight."
Redstone Arsenal received reports of a person possibly armed with a weapon at a building on the base, spokesman Christopher Colster told WAFF-TV in a live broadcast.
Colster said there were no confirmed casualities, and officials hoped workers could return to normal activities within a couple of hours.
A safety drill was planned for Wednesday, but Colster said the report of a shooter was not part of any exercise.
Copyright 2017 The Associated Press. All rights reserved. This material may not be published, broadcast, rewritten or redistributed.