Analysis | What we know about nearly 800,000 'dreamers' in the U.S.

The Washington Post
9/6/2017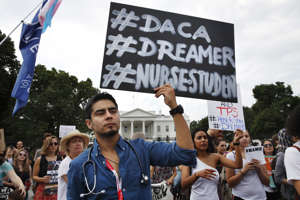 Supporters defend DACA President Trump's decision to wind down legal protections for undocumented immigrants who were brought into the United States as children will affect hundreds of thousands of people.
About 788,000 applicants to the Deferred Action for Childhood Arrivals program have been approved for a two-year work permit since DACA began in the summer of 2012, according to data from U.S. Citizenship and Immigration Services.
DACA shields the "dreamers" — who were brought into the country when they were under the age of 16 — from the threat of deportation and allows them to get driver's licenses and apply for jobs. The designation also makes it easier for them to afford college.
The immigrants have to meet a number of criteria to qualify for DACA, both at the time they entered the country and the time they applied for DACA. For instance, dreamers must be in school, have completed high school or have a general education development (GED) certificate. They also cannot have been convicted of any serious crimes.
Data released by the Department of Homeland Security following the first full year of the program show that about half of the DACA participants accepted were younger than 20.
Mexico is the primary place of origin for dreamers, while most others came from Central American countries such as El Salvador and Guatemala.
According to March 2017 immigration services data, about one-third of DACA applicants listed California as their state of residence, with other large populations claiming residence in Texas, New York and Illinois.
The detailed DHS data from 2014 showed 13 percent of all dreamers were living in Los Angeles. An estimate from the Migration Policy Institute shows that the DACA-eligible population is concentrated in cities, especially in Los Angeles County, where 123,000 would have been immediately eligible for the program.
['We are America': DACA recipients, supporters say they are not going anywhere]
In Houston, there are 44,000 who would be immediately eligible, according to the report. Last week, a dreamer, Alonso Guillén, died trying to rescue stranded people from the flooding caused by Hurricane Harvey.
Now, DACA recipients are concerned that immigration officials will use their application data to target them for deportation.