Appeals court rules for transgender teen in Va. bathroom case

News & Observer, Raleigh, N.C.
4/19/2016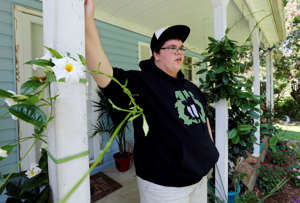 © AP Photo/Steve Helber, File In this Aug. 25, 2015 file photo, Gavin Grimm leans on a post on his front porch during an interview at his home in Gloucester, Va. RALEIGH, N.C. — A transgender teen persuaded the U.S. 4th Circuit Court of Appeals that banning him from using the boys' bathroom at his high school in rural Virginia is a case that should be heard in court.
The 2-1 ruling, which came Tuesday afternoon, could shape the fight over House Bill 2 in North Carolina and have an impact on a lawsuit filed in March by two transgender people and a lesbian law professor.
North Carolina, like Virginia, is part of the 4th Circuit.
The teenager who brought the case, Gavin Grimm, 16, and his attorneys argued before a U.S. Court of Appeals panel in January. The ruling on Tuesday brings clarity to how the appeals court plans to interpret the question of whether bathroom assignment should be based on the gender on a student's birth certificate or the gender with which a person identifies.
The federal Department of Education's Office of Civil Rights sent an opinion letter dated Jan. 7, 2015, that stated it was OK for schools to permit the provision "separate toilet, locker room, and shower facilities on the basis of sex" as long as the facilities provided for one gender were comparable to what was provided to the other. "When a school elects to separate or treat students differently on the basis of sex … a school generally must treat transgender students consistent with their gender identity.
"The Department's interpretation resolves ambiguity by providing that in the case of a transgender individual using a sex-segregated facility, the individual's sex as male or female is to be generally determined by reference to the student's gender identity," Judge Henry Floyd wrote in Tuesday's majority opinion.
In reversing the lower court in Virginia, the 4th Circuit panel said the judge had used the wrong legal standard in denying the student a request to halt the bathroom ban while his case pended in court. Grimm, whose case has brought national attention to the LGBT fight over public restrooms, was born with female anatomy, according to his court filing, but came out in high school as a transgender male.
The Tuesday ruling also reverses a lower court ruling in which a judge agreed to dismiss the Grimm case upon request from the Gloucester County, Va., school board.
"Today's historic decision is not only a victory for Gavin, but for all transgender young people who are being targeted by discriminatory actions — including North Carolina Governor Pat McCrory's anti-transgender HB2 law," Sarah Warbelow, legal director of the Human Rights Campaign, said in a statement. "This ruling not only gives appropriate deference to the Department of Education's interpretation of Title IX as allowing transgender students to use school restrooms consistent with their gender identity, it also is binding on the state of North Carolina. We therefore expect public schools, including those in North Carolina, to immediately comply, ensuring transgender students full protections under the law, which includes full access to the appropriate facilities."
The 4th Circuit is the highest court to consider a question about whether bathroom restrictions, such as those in North Carolina's controversial House Bill 2, constitute sex discrimination and a violation of Title IX, the federal law governing gender harassment and discrimination. The decision could have reach beyond Virginia.
In response, the American Civil Liberties Union, ACLU of North Carolina, and Lambda Legal released a joint statement shortly after the ruling.
"Today's ruling makes plain that North Carolina's House Bill 2 violates Title IX by discriminating against transgender students and forcing them to use the wrong restroom at school," the organizations stated. "This mean-spirited law not only encourages discrimination and endangers transgender students — it puts at risk billions of dollars in federal funds that North Carolina receives for secondary and post-secondary schools. House Bill 2 exposes North Carolinians to discrimination and harm, is wreaking havoc on the state's economy and reputation, and now more than ever, places the state's federal education funding in jeopardy. We again call on Governor McCrory and the General Assembly to repeal House Bill 2 and replace it with full nondiscrimination protections for LGBT people."
Gov. Pat McCrory filed a so-called "friend of the court" brief in support of the bathroom ban in Virginia.
When signing North Carolina's HB2 into law in March, McCrory focused on the bathroom part of the legislation adopted in a $42,000 emergency session and called it a "common-sense law."
Since then, there have been protests, entertainment boycotts, businesses opting against planned expansions in this state and calls for repeal from CEOs, university groups and just recently Duke University. In recent weeks, North Carolina has been the butt of late-night TV jokes.
McCrory has called for tweaks, but there has been no indication from legislative leaders of support for what the governor has suggested.
On Tuesday, after a meeting with his education Cabinet in Raleigh, McCrory met with reporters and answered a few questions from them about the ruling.
McCrory said he disagreed with the ruling, but would respect it. The ruling's impact on legislation and policy needs to be evaluated, he said. "This is a major, major change in social norms," McCrory said.
Mara Keisling, executive director of the National Center for Transgender Equality, issued a statement praising the 4th Circuit ruling and urged North Carolina lawmakers to repeal HB2 in light of it.
"North Carolina is part of the Fourth Circuit, which issued today's ruling, and must follow the court's decision," Keisling said. "While many people are still learning who transgender students are and how to treat transgender students fairly, the court has rightly recognized that treating all students with dignity, including regarding restroom access, is the right thing to do — it costs nothing and harms no one. On the other hand, as recent weeks have shown, discrimination is harmful, costly, and illegal."
———
(News & Observer staff writer Lynn Bonner contributed to this report.)